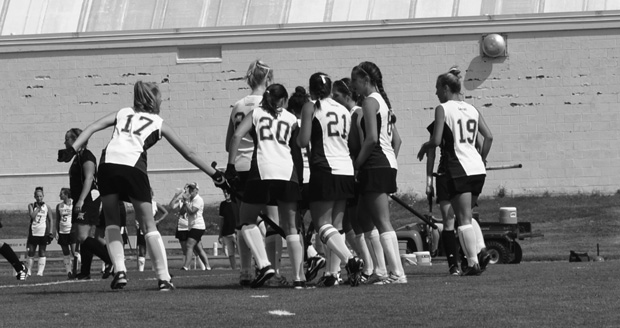 After ending last season on a rough note, the Oswego State field hockey team is looking to rebound and turn the 2011 campaign into a success.
The Lakers finished last season on a five-game losing streak, which gave them a record of 4-11 overall and 1-5 in the SUNYAC
To avoid suffering another collapse, the team is incorporating new concepts and strategies while preparing for game day.
"Better team dynamics is a key focus for us this year," fourth-year head coach Brandi Lusk said. In order to win games, Lusk said during practices they put a lot of stress on "fast breaks, making good shapes [on the field], and sprinting."
A potential challenge for the Lakers is the addition of freshmen and the loss of vital seniors. The Lakers lost seven seniors from and have added three freshmen. But with returning senior captain Jackie Cook and her fellow junior co-captain Jess Felice, there is sure to be resiliency and high team morale.
"We want to be coming out hard every game and being ready to give a full 70 [minutes]," said Cook.
The team is also focusing on "great team orient while working together as a team," Felice said. "Our goal is a .500 season; we're out to prove what we can do together."
In addition to excitement about the upcoming season, the captains feel privileged to be the team leaders.
"These are twenty of my closest friends so the votes mean a lot to me," Cook said.
"It's truly an honor," Felice said. "I'm looking forward to setting a good example as a leader this year."
The Lakers' season is already underway and the team has a record of 1-1 having played their two preliminary games during the first week of September. A 6-0 loss on the road to William Smith in their first contest was followed by a bounce-back victory at home against Houghton.
The Lakers play again on Saturday when they visit Nazareth as they look to continue on their improvements and generate an early-season win streak.