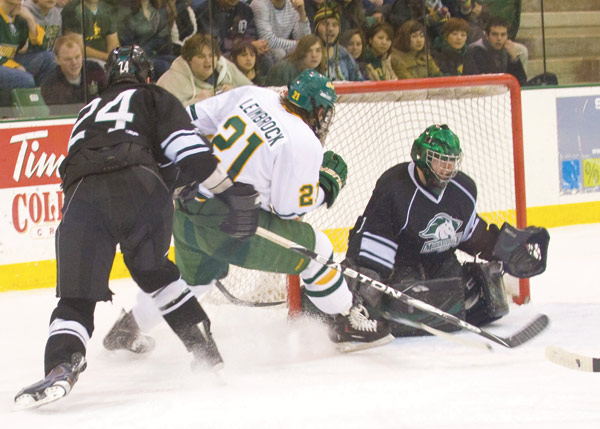 In its first game in front of the student body this calendar year, the Oswego State men's ice hockey team looked flat and uninspired in a 5-2 loss against Morrisville State on Saturday at the Campus Center Ice Arena.
The Mustangs jumped out to a two-goal lead in the first period and did not look back, handing the Lakers their first conference loss of the season and first since Feb. 20, 2010, when they lost to SUNY Geneseo. It was the first conference game the Lakers had lost at home since a 4-2 loss against SUNY Potsdam on Feb. 21, 2009.
The Lakers (20-3-0 overall, 13-1-0 SUNYAC) did not look like the top-ranked team in Division III. One-timer attempts that would have resulted in easy goals were missed and passes were either too far in front of their intended targets or bounced off the back of their skates, resulting in turnovers.
"You could know nothing about hockey and know they played like a desperate playoff team and we played soft," head coach Ed Gosek said. "It's been a long time since we lost that many one-on-one battles. In every facet of the game, we were outworked. We did not have the right focus and mental preparation."
Morrisville, with a few faithful fans in the crowd of 2,650, jumped out to the early lead at 5:45 of the first period with a goal scored by Taylor Vince. Bobby Cass found Vince in the slot just inside the blue line off a faceoff won in Morrisville's offensive zone. Vince wristed a shot on net that got past Oswego State junior forward Paul Beckwith's glove side. Vince's shot from the slot is one that Beckwith has typically been able to save all season long.
Beckwith's struggles in net continued in the first period when he gave up a power-play goal to Cass at 12:03. Morrisville's second goal of the game was set up by a boarding penalty by sophomore forward Paul Rodrigues. With the man-advantage, Morrisville's Matt Salmon fed a pass to Cass at the far side faceoff circle, who fired a wrist shot that deflected off Beckwith's glove and ended up in the back of the net.
"We didn't match their intensity and that's uncharacteristic of us," Gosek said. "Very rarely do I feel like we get outmuscled and lose one-on-one battles and tonight I thought we clearly lost a lot of one-on-one battles."
The Lakers cut the Morrisville lead in half with under a minute remaining in the first period on Rodrigues' 10th goal of the season and his fourth in five games. Oswego State's first goal was set up nicely by senior forward Justin Fox, who delivered a cross-crease pass to Rodrigues, who one-timed a shot past Morrisville goalie Caylin Relkoff on his stick side.
Although the momentum appeared to belong to the Lakers with the late first period goal, Morrisville would be the other team to find the back of the net in the second period. Mustang forward Jamie Nelson took control of the puck at center ice and brought it into the near side faceoff circle in the Lakers' defensive zone, where he blasted a slap shot that deflected off his stick-side blocker before ricocheting past Beckwith's glove side.
Morrisville's third goal came just a minute after Oswego State had killed a five-minute major for hitting from behind on senior forward Dan Bremner. Bremner was also assessed a game misconduct for the infraction.
"There were enough undisciplined penalties where we can't blame the refs," Gosek said. "We deserved the calls that went against us. Unfortunately, we started to play as individuals instead of as a team."
Following Nelson's second goal of the game to stretch Morrisville's lead to four, the Mustangs began committing several infractions that left them shorthanded throughout most of the third period. The Mustangs took four penalties in a four minute stretch that resulted in three separate 5-on-3 power plays for the Lakers. Of the three 5-on-3 advantages the Lakers had, they only managed to get the puck past Relkoff once. At 4:14 of the third period Fox took a pass from senior forward and assistant captain Chris Laganiere and wristed a shot that slipped just inside the near side post on Relkoff's glove side. The Lakers finished just 1-for-8 on the man advantage.
The Mustangs pushed the lead back to three on James Jarvis' goal at 12:02 of the third period, ensuring Morrisville its eighth conference victory of the season and a spot in the SUNYAC playoffs for the second straight season of eligibility. The Mustangs currently sit in third place, two points behind Geneseo for the second spot and a first-round bye.
"This time of year I see nothing good that comes out of a loss going into your last weekend," Gosek said. "If we dwell on it and come out with the safe effort and lack of intensity next time it will be a short postseason unfortunately."
While Beckwith struggled with consistency in net for the Lakers, recording 29 saves on 34 attempts for his first loss this season, Relkoff was tremendous. Relkoff finished with 37 saves on 39 shots, including 15 saves in the first period and 14 saves in the second for his ninth win in net this season.
"Collectively as a team, from goaltending to defense to offense, we were all off," Gosek said.
The Lakers return to action on Friday, Feb. 18, when they host SUNY Brockport at the Campus Center Ice Arena. They will close out the regular season on Saturday, Feb. 19, when they battle ninth-ranked Geneseo on Senior Night. The Lakers have clinched the No. 1 seed in the SUNYAC playoffs and will have home-ice advantage.