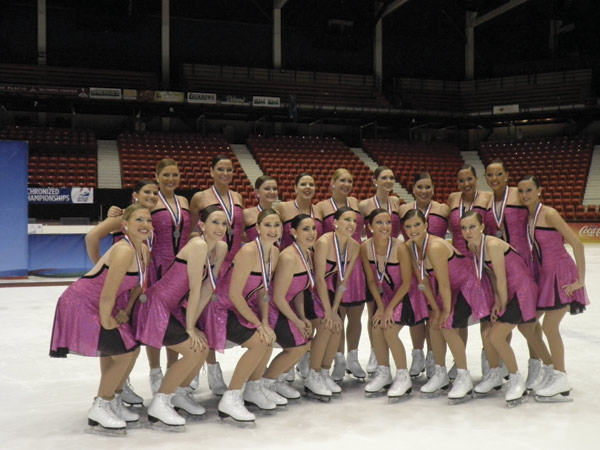 After placing fourth in the collegiate division of the Eastern Sectional Qualifying Competition in Lake Placid on March 4, the Oswego State synchronized skating team is eligible to compete at Nationals in Ontario, Calif..
Senior skater Hillary Erchick said the performance in Lake Placid was "stellar."
According to Erchick, the team hopes to place fifth or sixth this year.
"We have two or three on-ice practices a week and one off-ice," Erchick said. "Two of them are in the morning before classes as well."
The time commitment shows the team's emotional connection.
"Right before we skated [in Lake Placid] we did our program off ice," Emily Anderson said. "It was so perfect. We did a section right on time with the music and it was amazing. We had a moment of team bonding."
Now that the team is headed to California, financing becomes an issue. Fundraising, donations, team dues and some support from Student Association are all monetary sources for the team.
It was not a huge hit to the team's budget because they hoped to get to Nationals from early on.
"Going to California was one of our goals at the beginning of the season." Anderson said.
With seven experienced seniors and eight rookie skaters, the team knows what they are up against the national competition.
"Miami always comes in first and Delaware usually gets second," Anderson said.
"We have gone to nationals for the last three years and placed 12th every year." Erchick said.
The club is in its fourth year of competitive skating and hopes to take that next step as an organization. The school hopes to make the club a varsity sport in the near future, which would help the team financially.
This is a big step for the team because many of the skaters were drawn to Oswego State because of the team.
"It was the only reason I came here," Anderson said. "Actually 95 percent of the team came here because we have a skating team."
Placing in the Top 10 at Nationals would propel the program to a new level and the team is confident it can make that step.