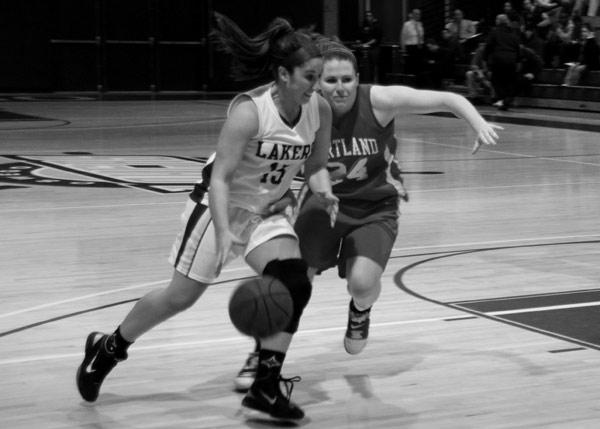 The Oswego State women's basketball team, playing without second-leading scorer Colleen McCready, fell to a hot-shooting SUNY Cortland squad, 78-63, Friday night at Max Ziel Gymnasium. The Red Dragons (9-3 SUNYAC, 14-4 Overall) shot 48 percent from the field while knocking down 42 percent of their 3-point attempts, cruising to the 15-point win. McCready was out with illness, according to head coach Tracy Bruno.
"It's a sickness situation," Bruno said. "We didn't find out until about three o'clock this afternoon. Tough to prepare when you don't find out until three hours before game time."
Oswego State (5-8 SUNYAC, 8-12 overall) went to more of an open drive and dish, screening offense with one of its biggest interior presences sidelined. The offense was there, as the Lakers put up their highest point total since a 69-63 loss to Fredonia on Jan. 29. However, they missed the defensive enforcement of McCready.
"Colleen doesn't necessarily always score for us, but I think that you see reflected in us giving up 78 points and getting outrebounded (45-34), that's what she does for us," Bruno said. "As a senior and having been in our defensive system for four years she knows how to guard and certainly is a rebounding presence, and we missed that without question tonight."
Junior Kayla Ryan and sophomore Meagan Stover carried the offensive load inside for the Lakers, as they combined for 29 points (16 and 13, respectively). However, the two combined for just 11 rebounds in the absence of the team's leading rebounder.
Oswego State trailed 46-28 at the break and could have easily caved in under the offensive prowess of the Red Dragons, but they came out of the gates with energy and outscored Cortland 35-32 in the second half.
Junior Jenna Rossi and senior Kristen Diglio both registered in double figures for the Lakers as Rossi cashed in 14 points and Diglio finished with 11, including three buckets from distance.
Micki Volpini (16), Brittany Cohen (16), Molly Byrne (13), and Megan Maycumber (11) all produced double digits in the scoring column for Cortland. Cohen nearly had a double-double as she finished with nine assists.
Despite the loss, Bruno and the Lakers have a lot of positive things to take out of the performance as they move forward with the end of conference play and a possible bid in the SUNYAC tournament looming.
"I'm just incredibly proud of my team," Bruno said. "I certainly think we could've gone down 22 and even 40 very easily. They certainly didn't take their starters out and kept their foot on the gas pedal. We cut it to 13. I'm incredibly proud of the kids that they didn't stop playing."