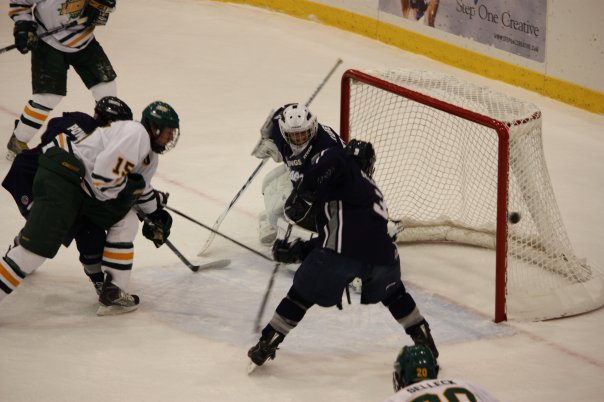 Last season, the Oswego State men's ice hockey team was just one win away from accomplishing a feat that is nearly impossible: go undefeated in SUNYAC play.
On Feb. 20, 2010, the Lakers traveled to the Ira S. Wilson Ice Arena to face off against SUNY Geneseo, a team that had been banned from postseason play due to recruitment violations earlier in the season. The Lakers defeated the Ice Knights earlier in the season at the Campus Center Ice Arena, but suffered a 3-1 setback at Geneseo in front of 2,435 fans on Senior Night. The loss snapped Oswego State's 22-game winning streak and ended its reign atop the USCHO.com Men's Ice Hockey Poll.
"We played well that game," head coach Ed Gosek said. "They played a good game and played more patiently than we did. They played inspired and deserved what they got; they got the win at home. Those losses you can live with."
The Lakers entered and exited the arena to cheers of "overrated" by the Geneseo fans and they can expect the same treatment come December. Coincidentally, the Lakers will again be the top-ranked team in Division III when the two teams meet following Norwich's loss at SUNY Plattsburgh last Saturday.
"[That win] gives us a sense of confidence knowing that we can beat anybody on our schedule," Geneseo head coach Chris Schultz said. "However, that was last year. This year, we are both different teams with different players."
The Lakers return to the Ira S. Wilson arena on Saturday, Dec. 4, hoping to avenge last season's loss to the Ice Knights. The matchup will feature the top two teams in the SUNYAC against one another. Oswego State goes into the weekend at 6-0-0 against conference opponents, while Geneseo sits at 4-1-1 in SUNYAC play.
Both teams have registered wins against SUNY Plattsburgh and SUNY Fredonia, who finished second and third, respectively, in the conference last year. Oswego State and Geneseo are the two highest ranked teams in the SUNYAC according to the USCHO.com Men's Ice Hockey Poll. The Lakers are the top-ranked team in Division III, while the Ice Knights have climbed up to No. 10 after beginning the season outside the top 15.
"It will be an emotional game for them," Gosek said. "They are a quality team. They have good goaltending and are well coached. They will play extremely hard. We'll have to match their intensity and play a disciplined road game."
The Ice Knights are used to playing against ranked opponents, going 2-0-2 in four games this season. Schultz credits the tough SUNYAC for their success.
"Playing in the conference helps prepare us for the other teams on our schedule," Schultz said. "You look at a team like Plattsburgh that has struggled in conference, yet they defeated Norwich over the weekend."
Something will have to give when the two teams meet, as the Lakers are undefeated on the road and the Ice Knights have yet to drop a game at the Ira S. Wilson Arena, a place that packs the house when Oswego State comes to play.
"For us, they usually have a good crowd so it's a fun place to play," Gosek said. "We like to bring out the best in every team that we play. That's going to make us better come end of the year. You need these games to see where you're at and for us to continue to develop our character and our own identity."
The key to the game will be goaltending. Oswego State junior goalie Paul Beckwith has filled in admirably for Kyle Gunn-Taylor, who used his last year of college eligibility last season. Beckwith goes into the weekend with a 9-0-0 record in net, a .947 save percentage and 1.45 goals against average (GAA). Beckwith's save percentage is eighth best in Division III, while his GAA is 10th best. Beckwith has helped Oswego State to the fifth-ranked defense in Division III at 1.44 goals allowed per game.
The Ice Knights have two solid goaltenders in sophomore Adrian Rubeniuk and junior Cory Gershon.
Rubeniuk is 4-0-1 in net with a .936 save percentage and a 1.97 GAA. Rubeniuk's save percentage is 16th in Division III and his GAA is 18th best. Gershon, who stopped 33 of 34 shots against the Lakers last February, is currently 3-2-1 with a .934 save percentage and a 2.14 GAA. Both Rubeniuk and Gershon lead a Geneseo defense ranked 10th in Division III at 2.09 goals allowed per game.
Neither team is short on offensive talent. The Lakers have two players in the top 10 scoring category while the Ice Knights have one. Oswego State senior forward Justin Fox is fifth in Division III with 14 points on six goals and eight assists. Oswego State junior Ian Boots and Geneseo junior defenseman Danny Scagnelli are eighth in scoring with 13 points. Boots has registered five goals and eight assists, and Scagnelli has netted four goals and nine assists.
The Lakers are ninth in Division III in total scoring with 4.56 goals per game, including a seven-goal game against SUNY Potsdam. The Ice Knights are 30th in scoring at 3.36 goals per game, which includes a seven-goal game of their own against Plattsburgh.
Each team return the majority of its roster this season. However, the Lakers lost approximately 50 percent of their offense, while the Ice Knights lost approximately 25 percent of their offensive production.
Special teams could prove to be the difference in the game, with both teams sporting similar statistics. The Lakers have a 28 percent success rate on the power play and an 86.3 percent success rate on the penalty kill. The Ice Knights have a 24.5 percent success rate on the power play and an 84.2 percent success rate on the penalty kill.
Regardless of what the statistics show, both coaches know that their respective teams have to treat each conference game the same, whether it's against the first place team or the last place team.
"Any team can beat any team in our conference," Schultz said. "The teams in the conference, top to bottom, can compete with one another. Every team we play in SUNYAC will be a 60-minute fight whether it's against Oswego State or any other team."
Prior to the Saturday matchup, both teams have to take care of business in their Friday games. The Lakers travel to play SUNY Brockport, while the Ice Knights host SUNY Cortland.