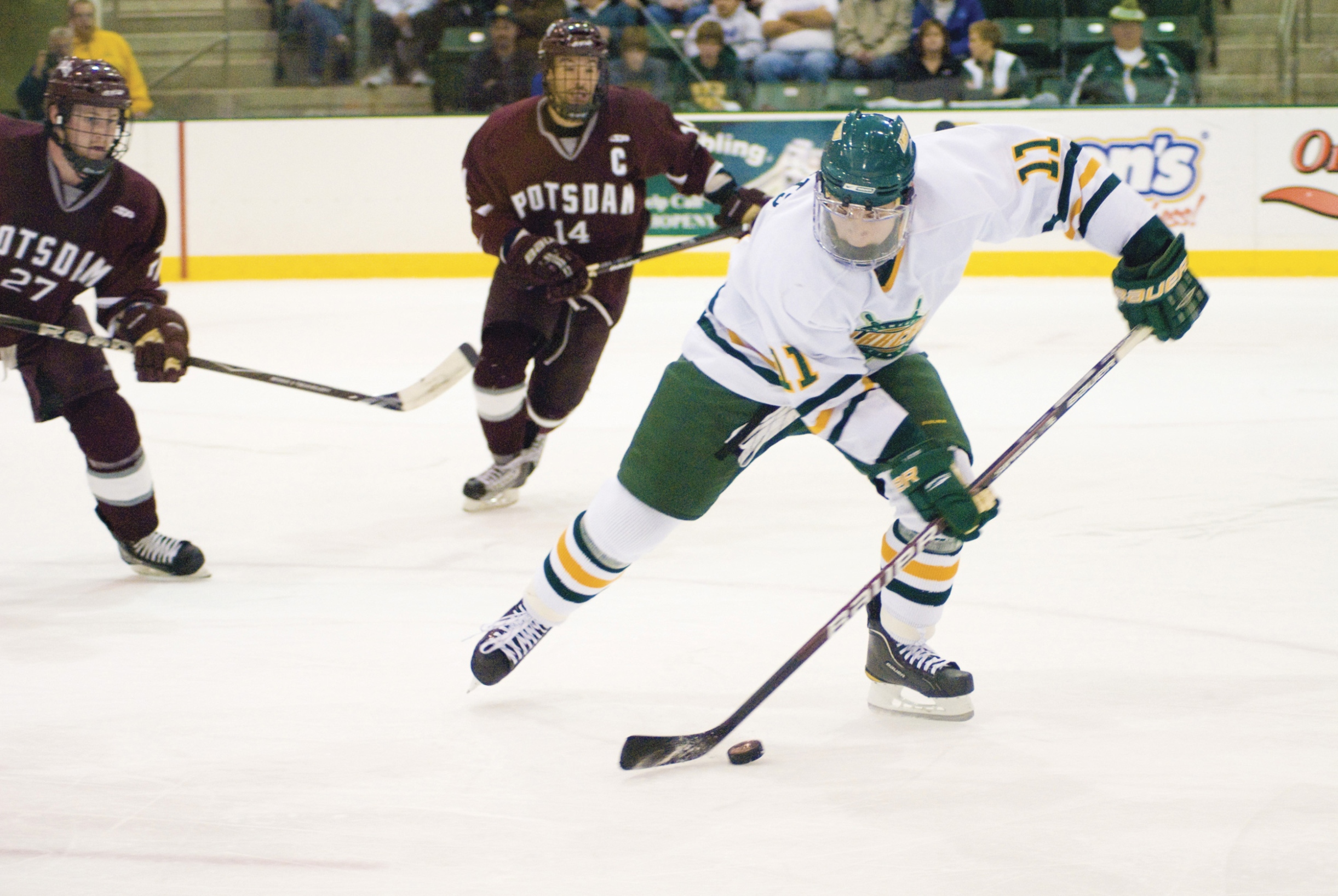 Oswego State men's ice hockey head coach Ed Gosek knew that he had big shoes to fill during the offseason. So far, the Boots he found seem to be a comfortable fit.
Ian Boots is a humble, soft-spoken junior transfer from Division I Ohio State University. He is second in the nation in scoring with 12 points on five goals and seven assists, trailing only Oswego State senior forward Justin Fox, who is on the same line as Boots.
Boots has helped power the Lakers to an 8-0-0 overall record and an unblemished 5-0-0 SUNYAC record. Oswego State is also ranked second in the USCHO.com Division III Men's Poll. The Lakers sit behind Norwich University, last year's Division III National Champion.
Last year, the team cruised to a 26-3-0 overall record and rose to the number one ranking in the country. However, with the loss of last year's top two scorers, Neil Musselwhite and Eric Selleck, many believed the team would see an immense drop-off in production. Musselwhite and Selleck combined for 44 goals last season, which was 29 percent of the team's total output. Because he hopped on a line with Fox and senior captain Chris Laganiere, a spot Selleck used to occupy, Boots has drawn some comparisons to last year's top point scorer.
"Selleck was a different player. He was a power forward, physical guy that could open up ice for the other two," Gosek said. "Boots will play physical. He'll finish his checks, but he's more of a skilled, crafty guy with a good stick that's going to make plays."
At age five, Boots' father got him into the game of hockey. As a child in Akwesasne, Ont., he dreamed of becoming a Formula 1 driver. Boots also grew to love hockey, and recognized that he was talented on the ice.
"Getting a hockey scholarship was something I felt was going to eventually happen for me," Boots said on Ohio State's website.
Boots began the 2006-07 Central Junior Hockey League season with the Cornwall Colts. After playing six games for the Colts, he was traded to the Brockville Braves. As a Brave, Boots registered 67 points on 29 goals and 38 assists in 48 contests. He shared Brockville's Most Valuable Player award and also won Fan's Choice Player honors.
While at Brockville, Boots caught the eye of Gosek.
"We had watched him as a kid and hoped that maybe he would sneak through the cracks and we would have a shot at him, but he signed a letter of intent with Ohio State," Gosek said.
During his freshman year at Ohio State, Boots sat out to focus on academics.
"Anytime you're sitting out, whether it's for injuries or something else, it's one of the hardest things you can do," Boots said on Ohio State's website. "The team was struggling, too, so it was frustrating knowing you could help contribute. I couldn't do anything with the team, either. No working out, skating, or anything."
In his first year playing for the Buckeyes, Boots looked as if he'd found a good fit. He netted nine goals and tallied 16 assists in 32 games. He scored the game-winning goal and assisted on the other marker in a 2-0 victory at Northern Michigan on Nov. 22, 2009. Boots was also an honorable mention All-CCHA Rookie team selection. It seemed like Boots would be a staple in the organization for three more years.
However, in his sophomore year Boots only saw the ice in 18 games and had a lone goal and three assists for just four points. On April 24, Mark Osiecki was chosen as the new coach at Ohio State.
"They got a new coach and he, along with five or six other guys, didn't fit in to the new coach's philosophy or style," Gosek said.
Boots contacted Gosek about coming to play for Oswego State, and after the proper steps were taken by Gosek and the Oswego State Athletic Department, Gosek was able to bring Boots to the Lakers.
Boots knew a lot of the skaters at Oswego State from the CJHL, making the transition a lot easier on him. Gosek quickly noticed some changes in the junior's game since his time in the CJHL.
"I think his competitive level and competitive spirit have picked up," Gosek said. "He competes at a high level in practice and in the games. I think he's been very consistent."
The Laker faithful immediately fell in love with the transfer. The fans regularly explode with a "Boots" cheer, with a seemingly never-ending 'o' filling the Campus Center Ice Arena.
Boots cemented his part in Oswego State hockey history when he scored the game-winning goal against Plattsburgh on Nov. 6 with 1:39 remaining on the clock. The arena erupted, truly marking a "Whiteout" worth remembering.
"We had that same look two or three times earlier in the game with different players and we didn't finish," Gosek said. "Whether he had that in the back of his head or instinct to fake the shot, deke around him and tuck it in with the goalie sprawled out, that is a goal that is confident. He didn't panic. He didn't rush. That's a goal-scorer's goal."
Along with senior transfer Dan Bremner, Boots understands the importance of hard work.
"Did he come in with this attitude that because he was with a Division I program that it was going to come easy or that he was better than everyone else?" Gosek said. "With [Dan] Bremner and Boots, they did not come in with that attitude. You have to earn your playing time and earn your keep. I think they both respected that."
Repeating last season's success is no easy task, but Gosek and the Laker fans think they found the proper footwear to make a run.