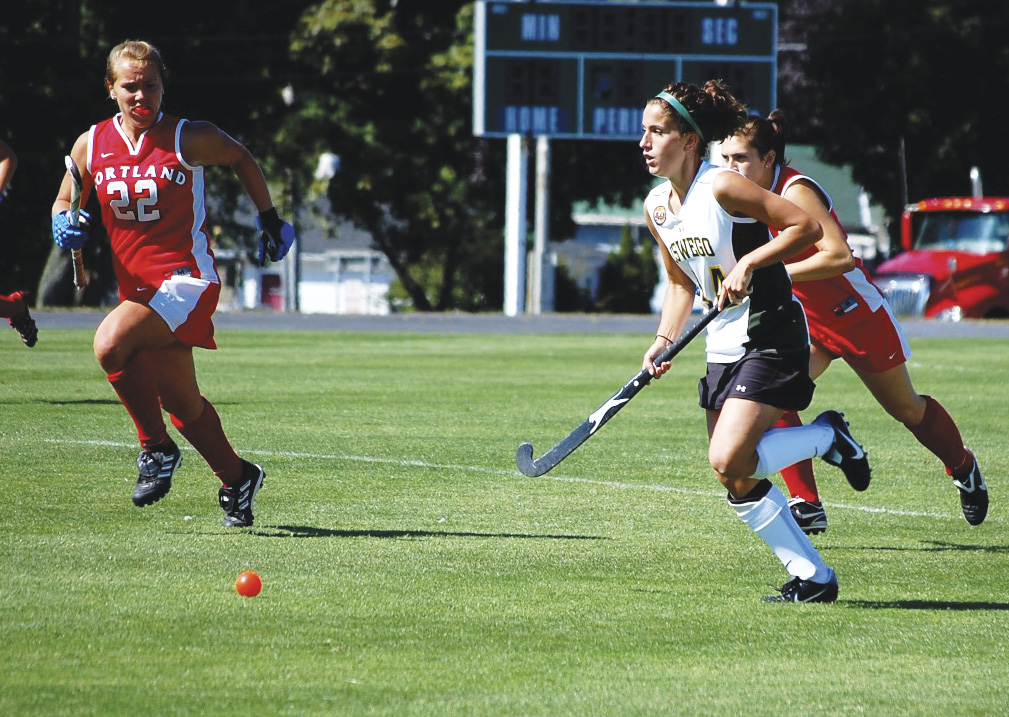 "Senior forward Brittany Roetzer (Rayt-zer) had watched her freshman season pass by without much to celebrate about.
"The Oswego State women's field hockey team did not score its first goal until its fifth game. The Lakers finished the season with 14 goals, while allowing 69 markers to their opponents. The sole highlight of the season for Roetzer may have been her hat trick in a 3-1 triumph over Wells College. The team finished 2-14 on the season. Roetzer led the team in scoring with five goals and an assist, but did not like the direction of the team.
""The seniors know we had a very tough season our freshman year," Roetzer said. "It took a lot for us to come back and continue to play."
"Head coach Brandi Ostrander took the reins for the 2008 season and Roetzer immediately felt a change.
""She's a lot more inspirational and knows how to motivate the team better," Roetzer said.
"The 5-foot-4-inch business administration major from Akron, N.Y. could have never predicted the success she would have under Ostrander. Roetzer was awarded her second consecutive first-team All-SUNYAC honors this week. She netted six goals, just as she did in her 2009 campaign, but tallied two more assists with four to finish the 2010 season with 16 points.
""I actually did not expect the honor," Roetzer said. "Mostly because the way our season turned out, but I was delightfully surprised about it."
"The team got off to a respectable start with a 4-6 record before dropping its last five games to finish at 4-11. This is a slight downturn from the Lakers' 7-9 finish in 2009, but Roetzer took a completely different stance on this year's squad.
""All of scores were really close," Roetzer said. "We had a really good team. We just couldn't get that ball in the net."
"Roetzer has fired in four game-winning goals in her career, two of which occurred in the past four matchups with SUNY Brockport in overtime. However, it was a loss against Brockport earlier this season that stuck in Roetzer's memory.
""When we lost [to Brockport] we had a huge team meeting right after the game," Roetzer said. "Everybody was still sweating. You were not getting on the bus until we went through the team meeting."
"With four game-winning goals to choose from, it seems obvious that one would stand out as Roetzer's career highlight, but Roetzer took more pleasure striking fear into a perennial powerhouse. Her career highlight was the team's lone goal in a 4-1 loss to SUNY Cortland in the 2009 season.
""It's rare when Oswego [State] scores at all against Cortland," Roetzer said. "For me to have the one goal in that game and see some of my teammates breaking down and crying on the sideline was really motivating."
"Roetzer finishes her career with 50 career points on 20 goals and 10 assists, a total she said she was surprised about. The field hockey team lost six others to graduation also, leaving some holes on the Lakers' roster.
"With field hockey out of the way, Roetzer looks toward the near and distant future in terms of her career options.
""Right now, I'm trying to focus on getting an internship for the spring," Roetzer said. "After school, I don't really know where I'm going to go. Maybe I'll open my own business some day."
"No matter what she does, Roetzer will be able to look back to these days and smile. By sticking with the program, she got a one-of-a-kind experience.
""I'm going to miss hanging out with everybody every day," Roetzer said. "It's rare that you get to hang out with all the girls after the season is over. The seniors that I'm graduating with were all really close so it's going to be tough next semester."