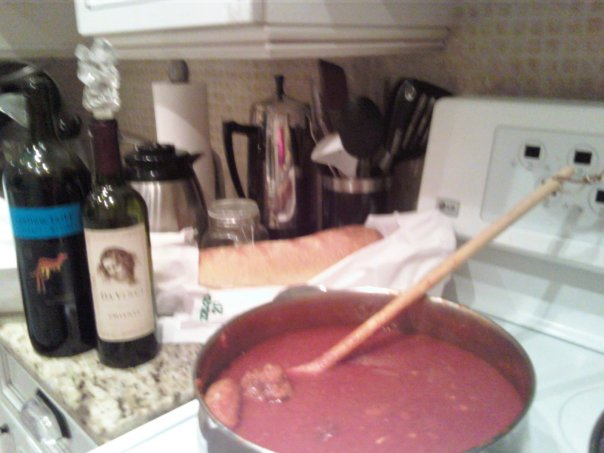 I believe in family tradition. Mine is eating macaroni on Sunday. Nothing compares to a table with the full spread of Italian bread, sausage, fettuccini, meatballs, – basically you're your favorite Italian food and it's probably on my table – and, of course, my big, loud, obnoxious family. This day is not only about the incredible culinary masterpieces my father prepares; it is also about the wonderful people I get to spend it with.
Sitting at the table with my father, mother, two sisters and a dog at your feet, you would think there are twenty people in the room because of pure volume (you would also think that because of the ridiculous quantity of food on the table). If you are not used to Italian people and their culture, then you would probably walk into my dining room and think we all hate each other because we are all screaming at one another. In reality, it is quite the opposite.
Being in Oswego, this is one of the things I have grown to miss more and more as each weekend passes by. There is no comparison between what Oswego State calls food and my father's gourmet Sunday meal. To even compare the two would be an insult to his many years of skill and practice. I have cooked twice for my friends, and, of course, it is delicious because I learned from the best, but nothing compares to dinner with my family. The dynamic we share is impossible to mimic, and I don't think I would even try. Tradition is truly the key to my families happiness, and this meal is a great indicator of how great the traditions are.
Here is a favorite recipe for an Italian pasta sauce:
Sunday Sauce Ingredients (serves 10)
2 large cans of crushed tomatoes
1 can of tomato paste
1 medium white onion (diced fine)
3 bell peppers (1 red and 2 green) (diced in small pieces)
2 tablespoons olive oil
1 teaspoon hot pepper flakes (exclude if you don't like spice)
3 tablespoons pepper (or more to taste)
3 cloves of garlic (minced fine)
2 tablespoons basil (fresh if available; if not use dried)
1 teaspoon sugar
1 teaspoon salt
Pour olive oil into a large saucepan and put on medium-high heat. Add in the diced onion, minced garlic, hot pepper flakes and bell peppers and cook until browned. Pour in crushed tomatoes and then fill up the cans of the crushed tomatoes half-way with water to get the excess tomatoes into the sauce. Add the entire can of tomato paste and move the heat to high. Allow sauce to come to a complete boil, and then add the basil, salt, pepper and sugar. Allow this to cook for atleast an hour, and then enjoy your delicious meal.
*If your sauce is too acidic add more sugar.