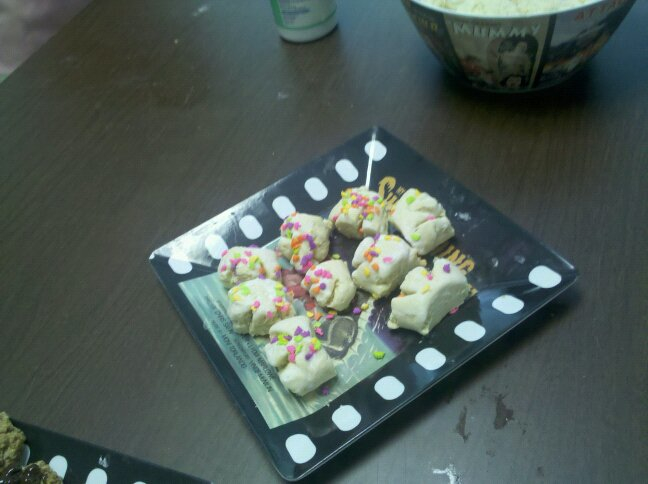 Sitting in the car on the way to Edison Avenue in The Bronx, I eagerly await stepping into my Uncle Charlie and Aunt Nina's house. After what seems to be the longest 45 minute drive ever; my father, my twin sister Laura and I finally park in front of the building. We can already smell the delicious food he has waiting for us; pasta with broccoli, meatballs, sausage, fresh Italian bread, homemade pizza, and of course, the biscotti for dessert. The food that we are about to enjoy is unmatched by any restaurant or bakery; the pasta cooked to the perfect "al-dente" texture, the hand rolled meatballs are fried right as we walk into the door, delicious Bronx Italian bread already cut, and on the table, and the biscotti just out of the oven waiting to be frosted and devoured.
After demolishing what seems to be the most incredible meal ever, the biscotti are presented in front of us. Even though we are stuffed to the point where all of our pants are unbuttoned, we all still manage to make room for our favorite dessert.
This biscotti recipe is highly coveted and a secret in the Nuzzo family; in fact now that my grandma has passed away, my Uncle Charlie was the only other person to have it. Because of that fact, I was worried about asking him for the recipe. But, upon asking he was more than pleased to give it to me, just figuring out what he was saying was the tricky part. He starts out by saying, in his extremely thick Sicilian accent, "Julia, you need either four or eight eggs."(Now, I don't know how many bakers are reading this article, but you cannot just switch between four and eight eggs; needless to say, I was confused.) After further explanation I learned that he was giving me directions to either make a whole or half-batch of the biscotti (mind you that a whole batch is usually about 250 cookies). So, after a long, drawn out description of how to mix the cookies correctly (complete with stereotypical Italian hand motions) and a whole lecture about how a cell phone is, "a stupid hundred dollar thing you put in you pocket" I finally got the recipe that I am now willing to share with all of the wonderful Oswegonians.
Or if you would just like to watch me make these delectable cookies, tune in on Thursday Oct. 21 at 9:30 p.m. on WTOP 10, and watch "Get Baked with Julia."
Nuzzo Family Biscotti (250 cookies)
8 eggs
3 sticks margarine (melted)
2 cups milk
4 cups sugar
1 teaspoon vanilla extract
10 teaspoons baking powder
1 tablespoon salt
3-5 pounds of flour
Icing
1 cup confectioner sugar
2 teaspoons water
1 teaspoon lemon zest or juice (zest gives flavor and looks nice)
Pre-heat the oven to 375. In a large bowl mix together the eggs, margarine, milk, vanilla and sugar. (Make sure the margarine is cooled off completely or else it will cook your eggs!) In a separate bowl mix three pounds of flour, baking powder and salt. In the bowl with the flour mixture, make a well; pour eggs into well and start mixing with your hands. Continuously add flour until the dough is no longer sticky. Cut the ball of dough into manageable sections and roll into a snake shape about 1 inch thick. Cut the rolled out dough into half-inch pieces and place onto ungreased cookie sheet only about a quarter inch apart from each other, then bake for 15 minutes. Once out of the oven, wait about five minutes then take the biscotti off of the cookie sheet and dip them into the icing, (add sprinkles if you would like); then enjoy!
For the icing mix together the sugar water and lemon until smooth.