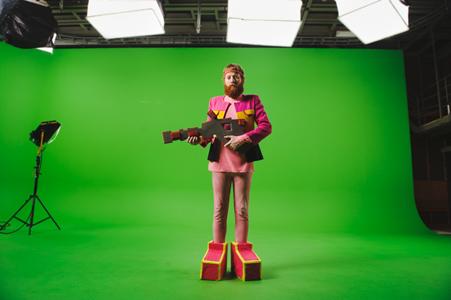 "Recently, I came across Icelandic synth-pop artist Berndsen. After listening to the track "Supertime,"I had to purchase his dark, zany and fun album "Lover in the Dark." After being impressed with the album, I had to interview the enigmatic Icelandic artist.
"
"Q: How did you get into music?
"
"A: I started playing guitar when I was 16 years old because I used to listen a lot of Guns n´Roses and Black Sabbath at that age. A couple of years ago, I bought a Mbox and started to record some ideas, mostly ambient and dramatic music, then again to get more into the recording side of the music. So I went to Holland to study Audio Engineering where I got to know a music genius called Hermigervill and we both shared the love for 80s music and started to make music together.
"
"Q: Had you always been into 80's sounds like saxophones, synthesizers and overblown guitar?
"
"A: How can you not like those things? The thing is, my dad listened to so much of the 80s music that those sounds got stuck into my brain and when I got my first synthesizer I thought to myself; "Aha! That's how music should be!" and I continued from there.
"
"Q: After viewing your music videos how important would you say humor is in the production of your music?
"
"A: I have always found it a bit hard to take myself too seriously with my music so somehow humor got mixed in my music videos. It's hard to explain it, but I worked on my music videos with a lot of people so its not only me who is so funny! It's all that people behind the video as well.
"
"Q: Who are some artists that you admire and why?
"
"A: David Bowie is one of my favorites! I admire people who have done so much good music and different things from pop to funk. He just does what he wants, which I have always liked. I could see myself doing an ambient jazz album one day, or a hip hop album. Just do any kind of music as long as its good though.
"
"Q: What do you like most about playing your music live?
"
"A: All the sounds on the "Lover in the Dark" album are mostly synths, but live I wanted to have it all live! So I got a guitar player, synth player, saxophone player, drummer , bass player , backing vocals – it's so much fun playing it live and I have mega-energy with the band.
"
"Q: If you were trapped on a desert island with an unlimited power supply, what one instrument would you bring with you?
"
"A: Only one? I would bring a Roland Jupiter 8 Synth!
"
"Q: What's next for Berndsen?
"
"A: I have been working on ideas for album number two. I want to play my music live for the whole world, find a nice booking agent… do more music videos!
"