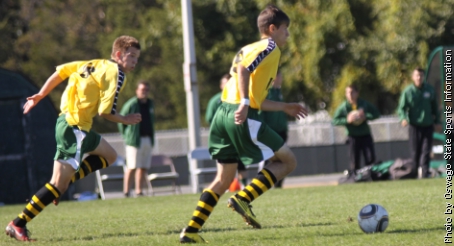 "The Oswego State men's soccer team could only muster one goal, but that was all they needed as the Lakers shutout Morrisville State College, 1-0, on Saturday afternoon at Laker Field.
"Freshman Brendan Beisner headed a high pass from senior Tony Greene into the back of the net in the 52nd minute to score what would turn out to be the game-winning goal for Oswego State.
"Freshman defender Andrew McBride's shot from the top of the penalty box was deflected wide of the net by Mustang goalie Shane Sullivan, resulting in a corner kick for the Lakers. Greene took the corner kick and sent the ball into the box, finding Beisner. Beisner split the defense and maneuvered his way past a diving Sullivan, placing the ball into the lower left corner of the net.
"The Lakers converted on one of their five corner kicks, while Morrisville came up empty on all four of their corner kick attempts.
"The Lakers played solid defense and possessed the ball for the majority of the game. They also out-shot the Mustangs, 18-4.
"The Lakers established momentum from the opening whistle, dominating the shot category in the first half, 10-1. Despite decent attempts at the net, only three of the Lakers' 10 shots found their way on goal. All three shots were stopped by Sullivan, the only three saves he recorded on the game. Both Sullivan and Laker goalie P.J. Goodwin were solid in preserving a scoreless first half.
""We're doing a better job of possessing the ball and connecting (on) our passes," Oswego State coach Bob Friske said. "We're working a lot more on possession, and that made us dangerous today."
"Goodwin spent the entire game in goal for the Lakers and made three saves to earn his first victory in net. Goodwin was unchallenged for most of the game, but when he needed to make a big save he didn't disappoint. In the 90th minute, Goodwin saved a shot by Morrisville's Andrew Stein to preserve the Laker victory.
"Freshman teammate Andrew McBride led the team with five shots, one of which found its way on net. Greene and junior defender Bryan Pacchiana each had three shots.
"The Mustangs struggled in the second half, committing nine fouls and failing to register a shot on goal.
""It's a good win," Friske said. "Any win is a good win. The score was 1-0, a typical soccer score, but it was nice to be back in the win column."
"Pacchiana and sophomore midfielder Brandon Carnovale received yellow cards in the first half, and Morrisville's Brendan Nally received a yellow card in the 29th minute.
"The Lakers improved to 2-5-1 with the win, while Morrisville State dropped to 4-4 on the season.
"The Lakers look to win their first conference victory of the season on Friday, Oct. 1 at 4 p.m. when they host SUNY Plattsburgh.