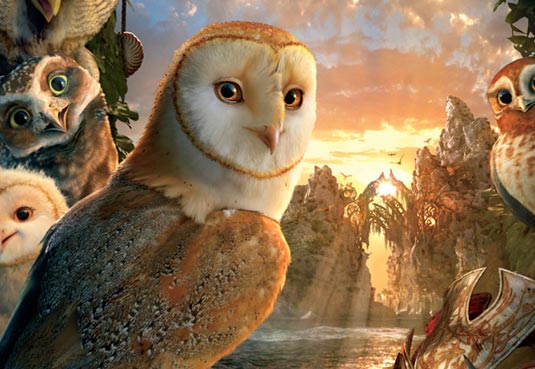 "Legend of the Guardians: The Owls of Ga'Hoole," directed by Zack Snyder ("300," "Watchmen") lives up to its 3D expectations, but fails with a weak storyline. Based on the first three books of the series "Guardians of Ga'Hoole" by Kathryn Lasky, the movie feels as though no importance was placed on the plot, while all the effort was spent on the visuals and sounds.
Soren, voiced by Jim Sturgess ("Across the Universe"), is a young barn owl fascinated by his father's tales about the legend of the guardians of Ga'Hoole; warrior owls that watch over and protect the kingdom. His brother, Kludd, (Ryan Kwanten, TV's "True Blood") is jealous of the attention Soren receives from his family and when they are both kidnapped by owls that work for the evil Metalbeak (Joel Edgerton "Smokin' Aces") and Nyra (Helen Mirren, "The Queen"), they find themselves on opposite sides of an old legend. They are taken to where owlets are brainwashed into becoming soldiers, to help Metalbeak take over all owls, and when Soren objects, he is forced into becoming a "picker," while Kludd is trained to become a soldier. A war begins when Soren runs away and finds the guardians to help defeat Metalbeak once and for all.
Although the strong battle scenes are pleasing to watch, at some point it is overwhelming and interferes with the story. The soundtrack, composed by David Hirshfeider, suited the astonishing visuals and will surely entertain the younger crowd that the movie aims for. This family movie teaches about courage and the value of dream in a nice and not overused way, which is great since this is Snyder's first animated film. Overall the animation is dazzling and entertaining, but it leaves the audience begging for a more concrete and involving story.