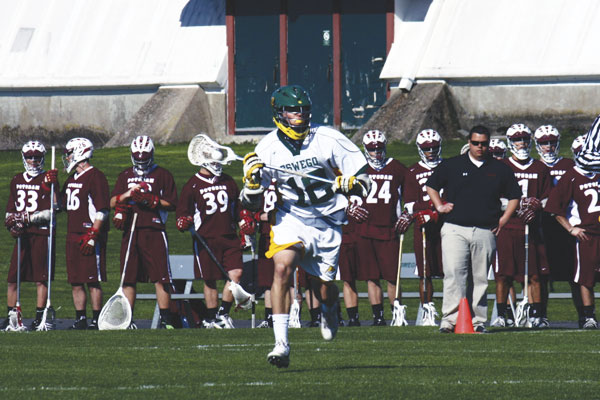 It was a frustrating day for coach Witmer and the Lakers men's lacrosse team as they fell to the SUNY Potsdam Bears, 15-11, at Laker Field.
The game started out with a flurry of Potsdam attacks as the Bears took a 3-0 lead in the first five minutes. However, the Lakers were able to bounce back and head into the second quarter down only 4-2.
At the five minute mark of the second quarter, the Lakers looked to tie the game at six as they held the ball in the Bears' end for over two minutes.
However, Potsdam goalie Billy Richards, who finished with 12 saves for the day, turned away several blistering shots from the Lakers to preserve the lead. The Bears eventually forced a turnover and tallied two more goals to take an 8-5 lead into halftime.
According to Witmer, the failed possession and subsequent three-goal deficit didn't demoralize his team.
"We were making mistakes and giving them possessions," Witmer said, "Whether it's a two-goal disadvantage or three goals, you still have thirty minutes to play. It might have been a little frustrating, but it was no more frustrating than any of the other goals they scored."
Senior captain Dan Scarazzo acknowledged how difficult it was for the Lakers to come back from a five-goal deficit.
"It was pretty tough, you know they're a good team," Scarazzo said.
"They have a lot of guys on offense. Three goals for them can happen over 10 minutes or it can happen over three minutes. They can hold the ball forever or put them in quick."
The Bears went on to outscore the Lakers 5-2 into the fourth quarter and breezed through the quarter to improve their record to 5-6 overall and 1-2 in the SUNYAC.
The loss will make it tough for the Lakers to get a bid in the SUNYAC tournament. However, Witmer is still looking at it one game at a time, even with big games against SUNY Brockport and SUNY Cortland looming.
"We've got to take care of business next Wednesday," Witmer said. "I'm thinking about Keuka right now. We'll worry about Brockport and Cortland later."