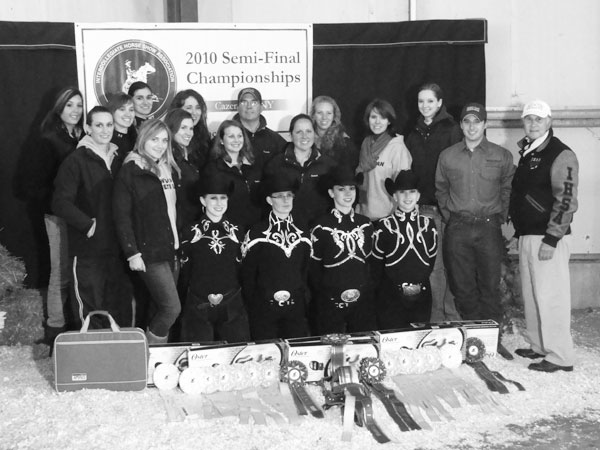 Last year, the Oswego State Equestrian Team made a name for itself on the national level when sophomore Jennifer Nagel won the AQHA Highpoint Rider National Championship. The feat has been conquered only once in 43 years from a school east of Ohio and north of Virginia.
This year Nagel earned the opportunity to defend her title. However, that is not the only chance that the Oswego State Equestrian Team will have to compete. For the first time in history, the team will compete for the national championship title. They will be among the top nine schools in the country, all of which are varsity equestrian schools. They also qualified six students who will show as individuals, competing for individual national championship titles.
The team received the opportunity to show at the nationals by winning the Zone II, Region II Western Team Championship. This is the first time in history that title has been won by any school other than SUNY Morrisville, Cazenovia College and Alfred University, whom all have an equestrian major. The team advanced on to one of three National Western semi-finals where they were required to finish in the top three at the show.
The members of the western team "restarted" seven years ago with one student after it had dissolved. The team now averages about 40 show members annually and has developed a strong competitive spirit.
The team has been coached by Jill and Dan Bergstresser of JD Performance Horses the last seven years. As coaches, they are always looking for more "equine interested" students who are either current Oswego State students and are unaware of the equestrian team or high school students choosing their college paths.
Nationals will take place May 6-9 in Lexington, Ky at the Kentucky Horse Park.