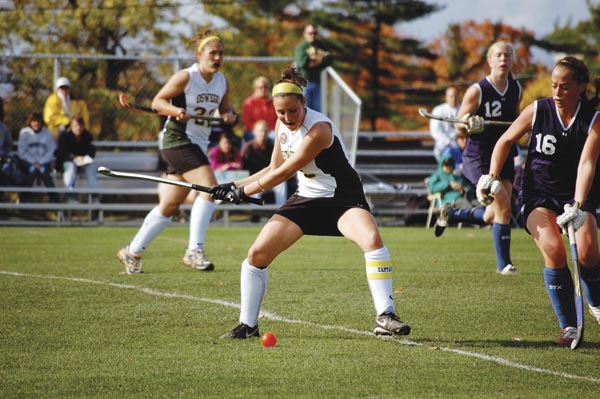 It was a senior day to be remembered for the Oswego State field hockey team, as the Lakers rattled the back of the cage three times in the opening 15 minutes to defeat visiting Ithaca College 3-1.
The Lakers got off to a fast start as senior Eileen O'Neill took a pass from midfielder Jordan McGuire and found the net just 2:15 into the contest. For the senior forward from New City, N.Y., it was her first goal of the season. Brittany Roetzer added the second goal for her team-leading sixth of the season. Lakers sophomore Katie Mazuchowski found Alyssa Hare for the third and final goal.
Goaltender Jamie Scharfe had eight saves in the game. Scharfe now has 303 career saves, moving her into a fifth place tie with former Oswego State goaltender Jennifer Worthley on the Lakers all-time saves list.
The Lakers managed just eight shots for the game, but netted three of their five first-half shots.
"They were ready; we worked on nothing but shooting and fast breaks this week in practice," head coach Brandi Ostrander said. "We did our homework and we knew that our forwards were faster than Ithaca's defenders."
The Lakers extend their winning streak to two, equaling their season high.
"We finally clicked, all the practice and drills paid off today," coach Ostrander said.
The Lakers improved to 7-8 on the year, reaching closer to their goal of a .500 season. The Lakers will play their season finale on the road against Houghton, who the Lakers fell victim to in the season opener at home 2-1.
"We really have a goal to be 8-8 this year, and if we play like today we will reach our goal," Ostrander said.