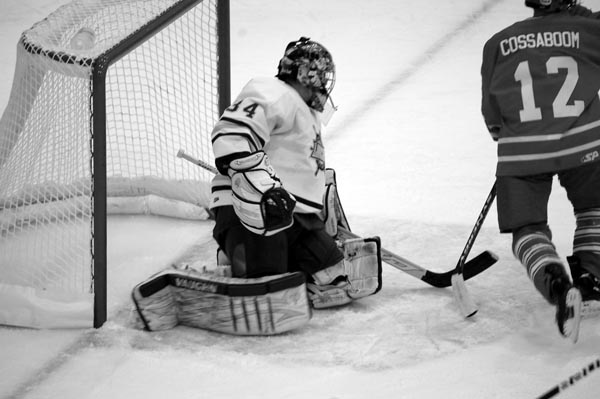 The hockey season opened up for the Oswego State Lakers this past weekend on Oct. 23 and 24 with a two game split against Elmira College in which both teams came away with a win.
Oswego State goaltender Paul Beckwith played a huge part of he Laker's win on Friday, stopping 30 shots and keeping his team in the game on Saturday with 41 saves.
The sophomore out of Cleveland, Ohio played with poise and confidence in Friday's contest, pushing most of his rebounds to the corners. He also controlled the game for his team by freezing the puck often, offering no second chances to a skilled Elmira team.
During Saturday's game, Beckwith became part of a goaltender's duel between himself and Elmira goalie Casey Tuttle. Both played exceptionally well and kept the score at 0-0 after the first period. All of the scoring was done in the second period and with less than two minutes to go in the period, with the score at 1-1, Elmira scored the go-ahead goal.
When asked how he handled the energy of the crowd on Friday, Beckwith said he was nervous at first but began to settle in as the game went on. He noticed that the crowd was getting on Tuttle and that seemed to help take some pressure off as well.
Saturday at Elmira was even more of an energy boost. Beckwith likes playing away games taunts from the opposing crowd gives him more energy than playing at home. He loves to prove the crowd wrong and silence them after a big save.
Playing hockey since he was three years old, Beckwith has learned a lot about the game, but says he learned the most from his father.
"My dad never played hockey but he pushed me the hardest out of anyone," Beckwith said.
Playing junior A hockey with the Pembroke Lumberkings two years ago, he received the Central Junior Hockey League MVP award. He also received an award in high school for being the Ohio High School Player of the Year.
He then came to Oswego State last year as a freshman and started in seven games, winning four of them. This season he is becoming more and more comfortable than he was last season.
"I am following and seeing the puck much better this season," he said.
Beckwith tries to model himself after Henrik Lundqvist, goalie for the New York Rangers. He loves that Lundqvist is always in position and so comfortable during games.
When asked about his team, he said that even though there are so many freshmen on the team, it is not a rebuilding year for the Lakers. The team chemistry is very good and it seems that everyone is clicking. He hopes that it is going to be an advantage more than anything. He predicts that teams will be counting them out and will be in for a surprise when the puck drops.
As a goaltender, Beckwith seems happy with how the team is doing so far. He has confidence in all the guys on the ice and feels confident about how the team will do this season.