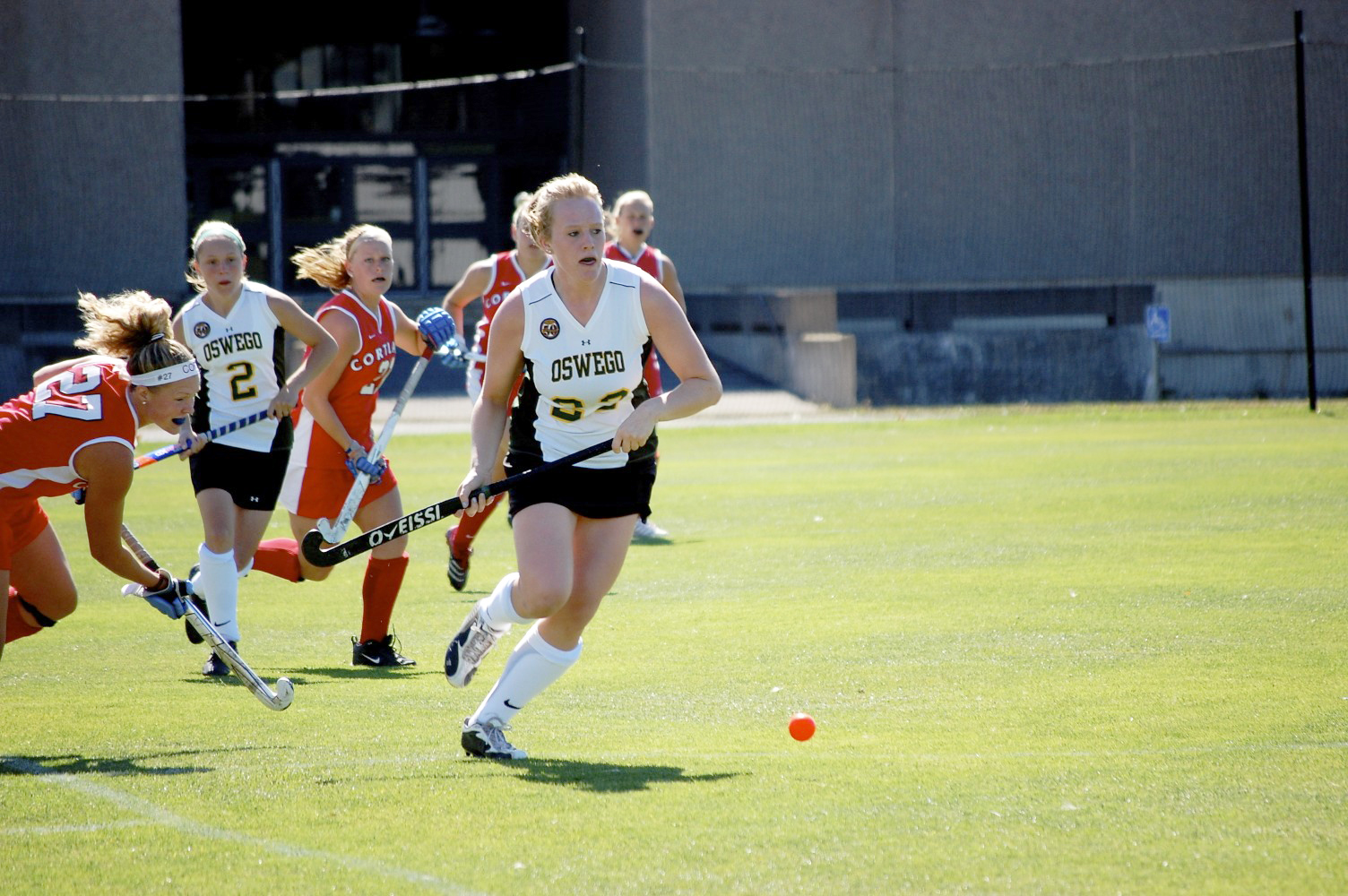 The Oswego State women's field hockey team successfully shutout the visiting SUNY Brockport Golden Eagles Tuesday afternoon, winning 3-0.
Despite the yellow card given to sophomore Kelly Collins in the beginning of the second half of the game, Collins productively scored a pair of goals — one in each half of the game. Freshman Taylor Stein also scored a goal in the first half with the help of sophomore Katie Mazuchowski.
The Lakers started the game off strong, with total command of the ball. Collins scored the first of two goals within the first four minutes of the game with a solid shot into the lower left side of the goal. Oswego State continued to hold possession of the ball; however, with 27 minutes left, Collins received a green card as a warning due to a slight hit to one of Brockport's midfielders. The Lakers remained in control and had several scoring opportunities that barely went wide. Finally, Stein put another goal on the board with 10:01 remaining in the half.
The Lakers didn't lose any of their aggressiveness in the second half and continued to prevent the Golden Eagle offense from scoring. However, with 32 minutes remaining, Collins received a yellow card after an accidental tackle. Oswego State continued to play without their high scorer for five minutes, but she redeemed herself with a goal with 22:30 left in the game off an assist from freshman Michelle Ruskey.
As the clock ticked down, the entire team continued to hold Brockport back from scoring. Sophomore Kelsey Moran had several saves as she prevented the Golden Eagles from scoring. This week's Athlete of the Week, Jamie Scharfe also had some significant saves as goalie.
"I was thrilled with the win," said head coach Brandi Ostrander. "But everyone seemed to be a bit melancholy because they know we could have played even better."
Regardless of the attitude, Oswego State improved their record to 2-4. Their next home game is on Saturday, Sept 26 against Kean University at 1:00 p.m at Laker Field.
As for Collins, she claims she didn't mean to get the yellow card. "I guess I forgot it's not hockey season yet," she said with a smile.