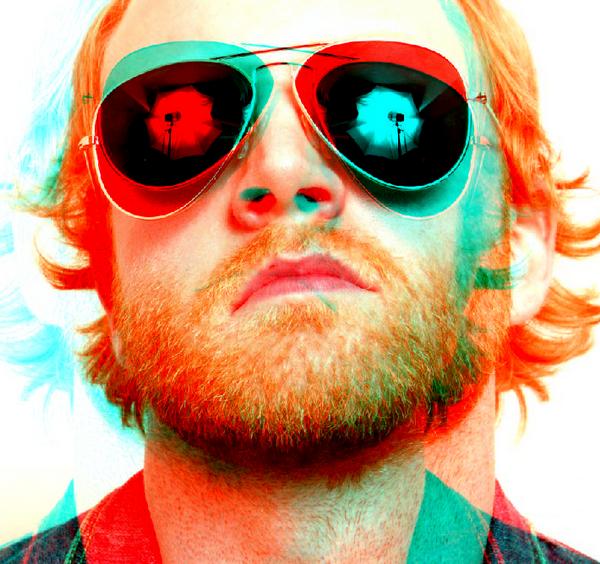 Logan Lynn is an artist out of Portland, Ore., that has recently been signed to the Dandy Warhol's "Beat the World" label. His new album "From Pillar to Post" is an emotional journey through sprawling soundscapes of sparkling pop melodies and jagged glitchy beats. As the press release on his Web page says: "He puts the "Disco" back in "Discomfort."
Q: How did your interest in music begin?
A: Well, I grew up in a super conservative religious home…I was literally the son of a preacher man…so, most music aside from church music was outlawed in our house. My parents had some John Denver tapes as well as the "Footloose" soundtrack mixed in with all of the Contemporary Christian music, which I gravitated toward at a very young age and proceeded to play to death. This is totally f***ed, but when I was 10 I started going to Target with my mom and stealing "secular" CD's, which I kept in the bottom of a trash can at home to hide from my parents. All of that was very "Footloose" too, now that I think about it. Eventually they found the stash and I got caught stealing, so the jig was up. There was no Internet back then, so from there I had to get creative in order to get music. I recall convincing my folks that Jesus Jones was a guy's name and that Tori Amos's song "God" was a hymn. These sorts of plans always worked until somebody paid attention, then the jig would be up again.
At a certain point, my parents mellowed out and I got heavy into alt-rock and female vocalists. I started taking tons of drugs and going to giant rave parties in the Midwest when I hit high school and started down the DJ road then. I think somewhere along the way the a cappella church music, the angry female vocalist alt-rockers and the techno combined in my head and helped to form the sound that I've kind-of come to be known for. It's a funny mix of stuff, but I think having to fight to listen to music as a young man made my connection to songs so much greater…like the idea that they could be taken from you at any minute makes every play that much more important or something.
Q: Who are some of the artists that have influenced your own style over the years?
A: My favorite band of all time is The Innocence Mission. I bought their first record in 1989 and have continued to buy everything they have put out since. I love them. If I were to pick one person who has influenced my lyrical style and the way I think about words it would be their lead singer, Karen Peris. She is someone who continues to amaze me with every step of her musical journey. I also am really inspired by Liz Phair, The Sundays, Lori Carson, The Cardigans, Kate Bush, Tori Amos, Regina Spektor. On the flipside, I still love all kinds of techno, indie rock and dance music as well. I am in more recent years inspired by Styrofoam, Simian, Phoenix, Santogold, MGMT, Midnight Juggernauts, The Presets, Rogue Wave, Mew, and a bunch of other folks who I think make music that could be friends with my music.I am also consistently inspired by the local Portland music scene: The Dandy Warhols, Assemble The Empire, The Upsidedown, Menomena, Gavin Castleton, Glass Candy, Chromatics, and The Gossip. To have that sort of talent swirling about town has been magical lately.
Q: When you write a song do you draw from personal experience or create a character to narrate through? Or maybe a combination of both?
A: Yeah, I have found that I'm no good unless I am being truthful, and the only way for me to do that is to take the mirror, turn it around on myself, and write about what I see. I try to just be honest about what I'm feeling, whether it's right or wrong. My music is about the struggle often times more than the answer, so I try just to make peace with the fact that it just is what it is and what it is is true, like it or not. I figure as long as I'm not full of s**t people will continue to respond to it.
Q: How did you meet your collaborator Carlos Cortes?
A: Carlos is one part of a local DJ Collective in Portland called Assemble The Empire and he approached me via Myspace about doing a remix for the original version of "Burning Your Glory" from 2000. I was so pleased with what he did, we made a video which ended up getting picked up by MTV's "Logo" Network and was really the first major milestone as far as my music getting "out there." We decided that, since that had gone over so well, we would make an E.P. That all happened at the beginning of 2007 and has been sort-of a whirlwind ever since.
Q: What about working with Carlos Cortes on your single "Feed Me to the Wolves" made you want to continue the collaboration?
A: Carlos and I work really well together. There is a mutual trust and respect that works wonders in the studio. We also got to be really good friends along the way, which made it even better. I really believe in being loyal to the folks who have done right by you and Carlos is one of those people for me. We have a special connection with the songwriting that I have never had with anyone else. It's rare that you find someone who you think is awesome and who you trust with your name, your sound, etc. He is really good at what he does, so I tend to let him do it. It has been nice to be able to focus on what I'm good at and not have it be a one man show anymore. He's super talented, is basically what it boiled down to.
Q: How did you get hooked up with The Dandy Warhol's Beat the World record label?
A: That was all chance as well. I was running a company in L.A. and Portland and we had hired a photographer named Ray Gordon to take photos for a new ad campaign. One night while we were there Ray and I got wasted and decided to take my new band photos as well. I then gave him a copy of the demo which Carlos and I were going to release as "From Pillar To Post" and he liked it. He also happened to be best friends with Courtney Taylor-Taylor and passed the CD along to him the following week.
From there, Courtney set up a meeting with Carlos and I and told us that he was interested in putting our record out. We said "hell yes" I believe and started in on what ended up being two years in their studio with Carlos and Jeremy Sherrer (one of their engineers). Courtney really believed in the record and what we were doing from day one and basically handed us the keys to the kingdom to get it made. We really owe a lot to The Dandys for making this all possible and to Courtney in particular for hearing what we were trying to do through what we had actually done. They were patient with us and let things run their course at a natural pace. They were so cool and really welcomed us into their family and the label.