Last Night
No. 9/10 Oswego State furthered their undefeated SUNYAC record last night a nailbiting 4-3 win over Buffalo State. SUNY Fredonia also won last night, coming away with a 2-1 result while on the road at SUNY Cortland.
Composure
Last night saw another one goal game for the Lakers, something that coach Ed Gosek will pay dividends for his team in the future. With the exception of a 3-1 win over SUNY Cortland and 4-2 win against Elmira College, Oswego State has won or lost by a single goal in their other three games. The ability to keep themselves composed during close games is a valuable skill for a young team to have.
Powerhouse Match Up
Both of these teams are SUNYAC heavyweights, and each have been building impressive resumes. Though Oswego State has lost, it was to an impressive team in Hobart College. With last nights win over Buffalo State, the Lakers are building momentum. SUNY Fredonia has already knocked off SUNY Geneseo, who perennially finishes at the top of the conference.
Lineup Card
OSW-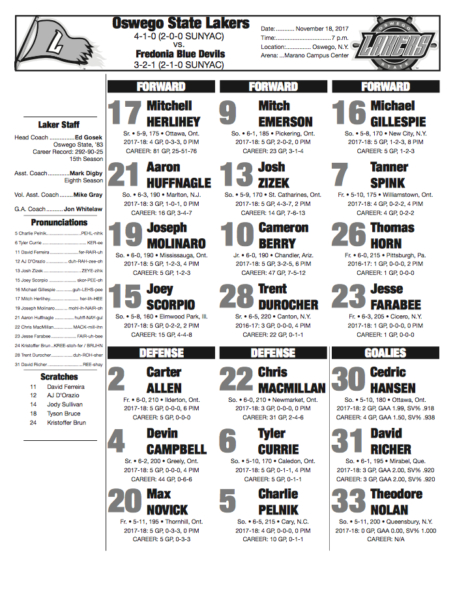 Gosek decided to make some changes after last night's chaotic win. Jesse Farabee and Trent Durocher draw in for AJ D'Orazio and Tyson Bruce, while Jody Sullivan continues to sit. The goaltending rotation continues as Cedric Hansen takes his turn while David Richer returns to the bench.
FRE-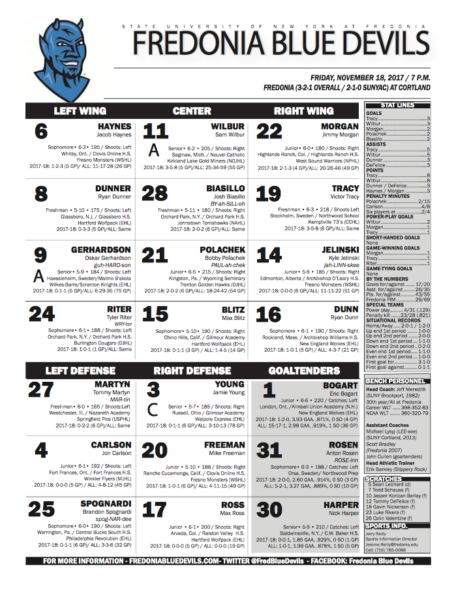 Players to Watch
OSW- Mitch Emerson
Emerson had a spectacular game last night against Buffalo State, scoring the game winner with an empty-netter. Though that was the only time he cracked the scoresheet, the sophomore forward was all over the ice last night and one of the Lakers best players.
FRE- Sam Wilbur
Like Anthony Passero for Buffalo State last night, Wilbur is another SUNYAC player scoring at a pace of over one point per game. With a line of 3-5-8, Wilbur will be one of the best pure scorers on the ice tonight and a big threat for an Oswego State defense corps that may be tiring with only six available players.
Prediction
Oswego State has only improved as the season has gone on, but SUNY Fredonia is as solid of an opponent that they will see all season. With the top half of the SUNYAC already wide open, both teams will be desperate to gain an early season advantage and position themselves strongly down the line. A storyline to watch is the Lakers defense corps that has not had a chance to rest much with the absence of Kristoffer Brun. The Blue Devils have proven they can beat talented teams, and they should prove that again tonight.
SUNY Fredonia wins 3-2.