Looking Back
The Lakers are riding a two-game win streak heading into tonight's matchup against Buffalo State. Both teams are coming off low-scoring wins over low talent teams, with the Lakers winning 3-2 over SUNY Canton and the Bengals knocking off Lebanon Valley College 3-0. Oswego State comes into this game with a 3-1-0 record, while Buffalo State has a record of 3-1-1.
Changes
There are a lot of differences in both teams from the last time they faced off in last year's SUNYAC playoffs. The Lakers lost almost all of their firepower on offense, while the Bengals lost their starting goaltender Mike DeLaVergne to graduation. Both teams identities from last season are gone, with Oswego State's high powered offense graduating and the Bengals always-reliable option in net they could depend on to keep every game close.
Revenge
In the aforementioned playoff game last season, Oswego State ended the Bengals season in Marano Campus Center Ice Arena. The Bengals will be looking for retribution for the 6-2 loss.
Players to Watch
OSW- Josh Zizek
The sophomore has come out of the gate flying this season with four goals and two assists so far, and it will be interesting if he can prove it is more than just a hot streak and truly establish himself as a top scorer for the Lakers' offensive unit.
BUF- Anthony Passero
Passero has started this season at an unbelievable two point per game pace. Eight of those 10 points have come on assists, and his passing skills will be valuable in stretching a Lakers defense that has not seen a threat like Passero so far this season.
Lineup Card
OSW-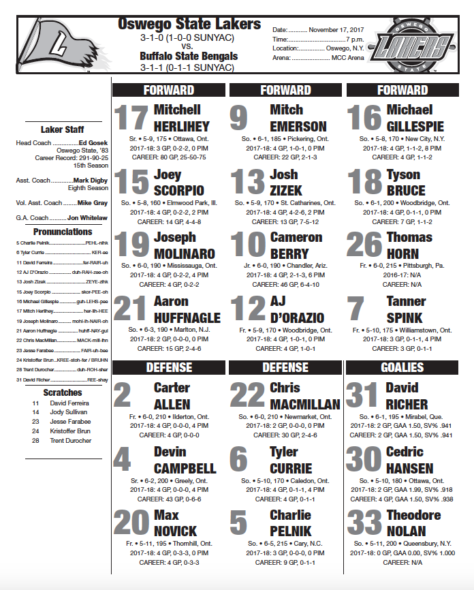 As expected, goalie David Richer will take his turn in the ongoing rotation with Cedric Hansen and receive the start tonight. There no changes in defense, as all six of the Lakers available defensemen tonight will be dressed. There is change on offense however, due to the injury to David Ferreira. Thomas Horn will draw in for the first time in his career, slotted on the third line with Cam Berry and Joseph Molinaro.
Prediction
Neither of these teams has beaten a standout opponent yet, and both teams will be looking to attain the best win on their respective resumes tonight. The tense environment that always shows during games between these teams will be on display tonight and will provide an added challenge for each team on their road to victory. Coach Gosek has implemented a theory of three goals for, two goals against for the Lakers and it does not seem like that ideology is going to fail them a long as they can execute.
Lakers win, 3-2.