The No. 1 Oswego State Lakers baseball team took down the No. 2 Southern Maine Huskies 6-4 to advance to the NCAA Div. III New York Regional Championship Round.
Late game heroics was the recipe once again for the Lakers as they rallied from a 4-3 deficit in the eighth inning to score three runs, thanks to Zach Kollar's two-RBI single, and Eli Holton's sacrifice fly that scored John Barnes.
The Lakers (31-9) improved to 3-0 in the regional and are one win away from advancing to the Div. III World Series in Appleton, Wisconsin. The Lakers would have to beaten twice tomorrow in order to not advance.
"Just battle," said head coach Scott Landers after trailing 4-3. "Do what we've done, don't give up and fight. Obviously we haven't given up all tournament, being in that position we've been it in before and they did their work."
Both teams came out ready in the first inning, Zach Quintal led off for the Huskies and reached on an error committed by shortstop Zach Whelan. A single by Matt Bender and sacrifice fly by Andrew Olszak off Lakers starter Mitchell Cavanagh brought in the unearned run for a 1-0 Huskies lead.
In the home half of the first inning, a Mike Dellicarri two-out single set up yesterday's hero Barnes to rip a two-run home run in straight away center field to give the Lakers their first lead at 2-1.
"I'm starting to see the ball better I was a little frustrated yesterday and the day before," Barnes said. "My timing was a little off, but today felt better, seeing the ball better, seeing spin a little bit better and good things happen."
The Lakers struck again in the second inning playing a little small ball. Kyle Dinges singled and advanced to second base on a balk committed by Huskies starter Henry Curran. Whelan laid down the bunt for a single and Dinges was able to score on a throwing error caused by Curran.
Cavanagh settled in with a 3-1 lead to pitch with, but would face trouble in the fourth inning as a walk and a pair of singles would load the bases for the Huskies with no outs. Jake Dexter's sacrifice fly would make it 3-2 Lakers with one out in the inning.
Quintal, with the bases loaded again would fly out for the sacrifice, but the inning would end with a double as Whelan was able to cut off the relay from Eli Holton and get McDonough out trying to advance to third base.
Two-time SUNYAC Player of the Year and All-American third-basemen Eric Hamilton was 0-8 at the plate going into today for the New York Regional and started off today 0-2. With two outs in the sixth inning, Hamilton ended Curran's streak of retiring five batters in a row by singling on a ground ball to left field.
"I was just trying to see more pitches, I was getting a little anxious earlier in the week," Hamilton said. "I knew I was all over and it would come eventually and it was nice to just break through with that single to left."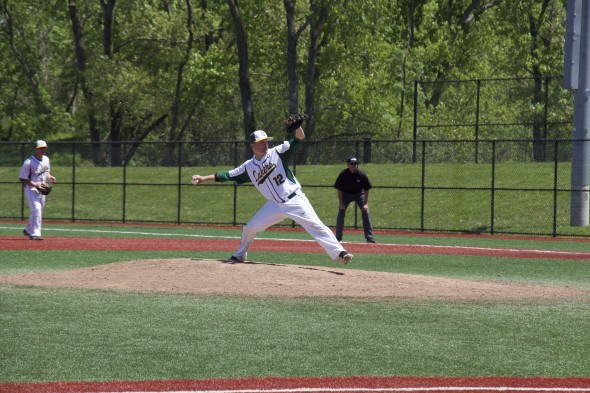 After a three-up, three-down inning from Cavanagh in the sixth, the Lakers would threaten after a one-out double from Kollar and a Holton intentional walked to first base.
The strategy would work for Southern Maine and the lefty Curran as he was able to get left-handed batter Dinges to ground into a double play to end the sixth inning and remain the score 3-3.
With one out in the seventh inning the Lakers faced trouble after Cavanagh's wild pitch advanced Huskies Devin Warren into scoring position at second base. After Zach Quintal drew a four-pitch walk, Cavanagh's day would be over from there with the game still tied 3-3.
John-Michael Guarino came in relief for the Lakers, and the first batter he faced Bender would bloop a single to centerfield, but Warren would hold up at third base to make it bases loaded with one out.
Guarino managed to get Olszak and Hapworth to go down swinging to end the top of the seventh and keep the game knotted up still at 3-3.
"I was pretty confident, I've been doing a lot of that this year," Guarino said. "Just trying to make sure I come in, throw strikes, keep it low in the zone, hopefully it don't hit the barrel."
Despite only three batters up in the bottom of the seventh, the inning featured plenty of controversy. Whelan's leadoff single for the Lakers would end Curran's day on the mound as Dexter would come to pitch from left field.
With Alex Brown up to bat, would show bunt, but pulled back on the pitch as Whelan was attempting to steal second base. Whelan got in safely, the call would be overruled as home-plate umpire Justin Sims ruled that Alex Brown interfered with Huskies catcher Kip Richard's throw-out attempt.
The game would pause as Landers went out to argue with Sims on the call and asked for an appeal, his request for an appeal was denied as it is Sims call to make on the field.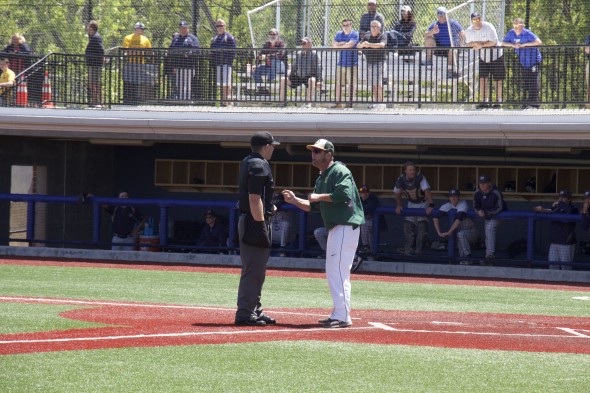 Going into the eighth inning and the game still tied 3-3 the Huskies would get going with a leadoff single by Richard who would move to second on a sacrifice bunt from Hillier.
Guarino would get McDonough to go down looking, but would walk Dexter to make it two runners on with two outs.
Warren, for his second hit of the day would drive in Richard, regaining the lead for Southern Maine at 4-3. Guarino would keep the deficit at just one by getting Quintal to fly out in foul territory in right field as Barnes made the catch on the run.
Hamilton, breaking his slump with a single in his last appearance, would lead off the bottom of the eighth inning with a bloop single to right field.
"He's been the guy for four years, he's got to be one of the staples in there," Landers said. "I just told him 'hey, have fun, and let the game come to you,' and that's what he did."
Dellicarri was next up would fake a bunt attempt and rip a single to left center. With Barnes up next to the plate, he would lay down a bunt and reach for a single to make it bases loaded with no outs for the Lakers.
Kollar with a 2-1 count ripped his single to right-center field to bring Hamilton and Dellicarri in to score for a 5-4 Lakers lead.
"Just trying to get the guy in no matter what, just do what I can to get him home," Kollar said on his mindset going into the at-bat.
Holton up to the plate would fly a shallow ball to left field, but the junior Barnes with a bad hamstring gave all of his effort to score on the tag-up and did so safely sliding head first.
"In my head I knew that run meant a lot, we needed another insurance run," Barnes said. "I just wanted to give it my all, it was either I was going to pull my hamstring or score the run."
The Lakers lead would be 6-4 going to the ninth inning after a Dinges strikeout and Whelan ground out to end the 8th.
With a well-rested bullpen, Landers still sent Guarino out to close the game for the Lakers with the two, three, four hitters due up for Southern Maine.
Guarino was able to retire Bender and Olszak on put outs from the right fielder Barnes, but Hapworth would come around for a triple after his fly ball to right-center to put the tying run at the plate.
"[Guarino]'s been my boy the whole year," Landers said. "That guy at third base didn't mean anything we just needed one more out."
Richard then stepped to the plate for the Huskies, but would go down swinging to complete the 6-4 victory over the No. 2 seed Southern Maine.
"It's good, but we still have more to take care of tomorrow, we can't let down," Landers said. "It's good to be where we only need one win on championship day, so we'll take that."
Barnes finished the day 3-4 with his two-run home run, and Kollar went 2-4 with two RBI.
Guarino picked up the win for the Lakers going 2.2 innings pitched allowing one earned run and striking out four batters.
Advancing to tomorrow's New York Regional Championship Round, the Lakers await their opponent as it could be either a rematch against Southern Maine or the winner of Ithaca College and TCNJ.
The first game of the New York Regional Championship Round for the No. 1 Oswego State Lakers tomorrow is slated to start at noon, a second game would happen shortly after if necessary.
"We're going to go to the hotel, relax and come back and play some baseball tomorrow," Landers said.