The No. 1 seed Oswego State Lakers baseball team rallied to defeat the No. 6 seed Ithaca College 11-10 in walk-off fashion for the first game of the NCAA Div. III New York Regional Tournament.
With two outs and the bases loaded in the bottom of the ninth inning, senior Wes Randall lined a single to center field to bring in the two winning runs, and the Lakers a 1-0 start in the regional tournament.
"I just felt real relaxed, he got the first fastball by me," Randall said. "I just told myself I wasn't going to be beat by another one, and he made a pretty good pitch and I got a pretty good barrel on it."
The Lakers came in not playing a game for two and a half weeks due to the weather and an off week. Ithaca College, like Oswego State, came in winning five straight but played as early as five days ago.
Right off the bat the Lakers were rolling in the first inning off the Bombers starter Robby Buffis. Walks by Randall and Mike Dellicarri had the bases-loaded with no outs. John Barnes, coming off a hamstring injury, drove a deep fly ball to left-center for a two-RBI double and to give the Lakers a 2-0 lead.
Next batter Eli Holton legged out a triple after his drive to the right-center gap to increase the early lead to 3-0 for the Lakers.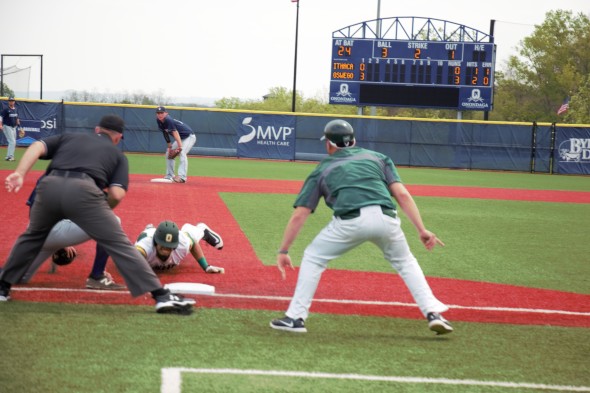 Ithaca College started to make some noise in the top of the third inning after Lakers second basemen Zach Kollar committed an error on Domenic Boresta's ground ball.
Webb Little's RBI single gave the Bombers their first run of the game, then followed by Trevor Thompson's sacrifice fly to cut the Lakers' lead to 3-2.
Lakers starter Tim Cronin was able to get Ryan Henchey to strikeout looking to end the half inning.
Buffis was able to settle in and calm the Lakers bats down for the next three innings. The Bombers offense was just getting started in fifth and were capitalizing off the Lakers mistakes.
In the top of the fifth, the Bombers loaded up the bases with singles from Josh Savacool, and the Little brothers, Sam and Webb.
Henchey avenged his last at-bat and drove a deep fly-ball to left field off the diving Holton's glove, giving the Bombers their first lead 4-3. Adam Gallagher's sacrifice fly would then push the Bombers lead to 5-3.
Buffis still dealing for Ithaca, got the Lakers heart of the order Dellicarri, Barnes and Holton to go down swinging for a quick half inning in the bottom of fifth.
With two outs in the top of the sixth, a high fly ball to left field was dropped by Holton to bring around Webb Little to score and make it 6-3 Bombers. Sam Little, on the very next play, would smack a home run to right field to give the Bombers their largest lead at 8-3.
"We fell asleep for four or five innings there after we came out hot, we got to play defense," head coach Scott Landers said. "We got in that position because we didn't play defense, that's the key, you got to pitch and play defense.
With their backs against the wall and facing one of their largest deficits of the season, Lakers senior Kollar came up to the plate the next half inning. With the first pitch he yanked one to left field for a leadoff solo home run to make it an 8-4 ball game.
"I was just trying to get a hit to be honest with you just to get something going," Kollar said. "Just turned on it, saw that it left the park, and after that I was like 'let's go, it's time to go.'"
That solo home run was only Kollar's second of his career, but would come timely as the Lakers began to rally.
With two outs that inning, Brown smooths a double to set up the top of the order. Randall coming on would get his first RBI of the game with a single to centerfield to cut Ithaca's lead to 8-5.
Buffis' day would be over from there on the mound as Chris Marinaccio came in relief to get out of the inning.
After Hamilton reached on a hit-by-pitch, Dellicarri would drive in Randall to only trail 8-6 with two outs still in the sixth. Hamilton proceeded to score after a wild pitch committed by Marinaccio, whose day would end there as the Bombers only led 8-7 at that point.
The score remained 8-7 going into the ninth as Matt Eiel and Brian Nolan were tossing well for both teams behind solid defense.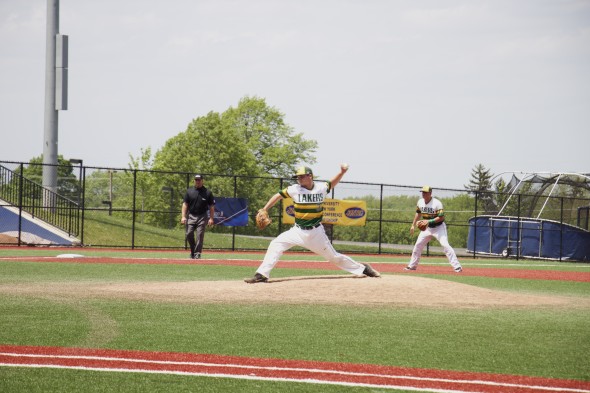 Sam Little would leadoff the ninth for the Bombers with a double, and Henchey would follow with a walk to put Nolan and the Lakers in trouble early with no outs. Andrew Bailey then grounded into a double play, just leaving Little left at third base.
Gallagher at the plate, kept himself alive fouling the ball off three times and would eventually lead to wild pitch that scored Little to make it a 9-7 lead. The next pitch, Gallagher would crush one to deep center to supply some Bombers insurance for a 10-7 lead.
Dellicarri led off the Lakers final chance to rally in the ninth with a bloop single. A walk committed by Holton with one out would give the Lakers the tying run at the plate and forcing Ithaca into a pitching change.
Bailey would move from shortstop and come in relief for Eiel, his appearance would be slim as he walked the next two batters to cut their lead to only two runs at 10-8.
Next man up in the Bombers bullpen would be Tom Cosentino, who let up a run scored by Holton on a wild pitch. After Cosentino walked Dinges to load the bases, his day would be over as Ithaca head coach George Valesente brought in his third pitcher of the inning.
Logan Barer would get Brown to go down swinging to make it bases loaded, two outs and a 10-9 lead for the Bombers.
Randall coming in to the at-bat was 3-4 with an RBI already, and with just a 0-1 count on him, he completed the Lakers' rally with his smooth single that scored Kollar and Hoagland with a close play at the plate.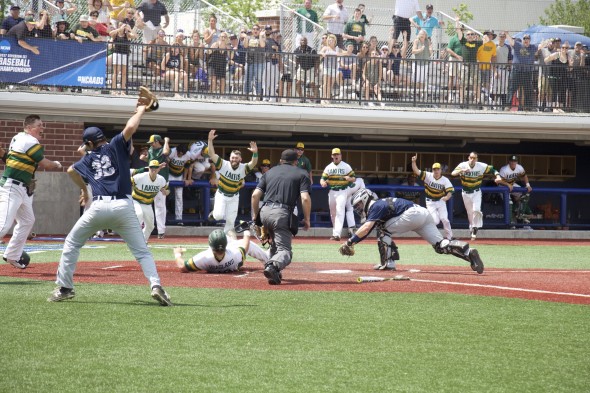 "Proud of them, proud of these boys," Landers said. "You know Wes is a senior, stepped up, but we were down three, and the guys ahead of him had to do their job to get to the next guy. That's been kind of the story all year, we've hit with two outs."
With a two and half week layoff deemed to be frustrating, it's very possible it served beneficial to the lingering hamstring injuries suffered by senior starters Randall, Kollar, and Barnes.
"I felt really good today," Randall said. "With the guys and the two and a half weeks off we knew we had to work hard preparing up for this weekend, we definitely had good focus during that time."
With the first game behind them, the Lakers will look to make their adjustments heading into their second game tomorrow.
"It's a big win, especially being down three in the last inning," Kollar said. "But we definitely made some errors that we got fix up and learn from those mistakes. Just keep it rolling and hopefully get a win tomorrow."
Today's victory improves the No. 1 Oswego State Lakers overall record to 29-8 for their sixth straight victory. They move on tomorrow in the double-elimination tournament and will take on the loser of No. 3 TCNJ and No. 4 Tufts University 2:30 p.m. at Onondaga Community College.