Robbie Murden's two goals and Evan Buitenhuis' 34 saves was enough to defeat the No. 4/5 Oswego State Lakers in this first round matchup of the NCAA Div. III Men's Ice Hockey Tournament. Murden scored a goal in each of the first two periods, but Oswego State's third-ranked offense  was only able to beat Buitenhuis once all game in the Continentals' 3-1 victory Saturday night.
No. 9/11 Hamilton College went on the road for its first ever trip to the NCAAs and handed Oswego State only its third loss all season on home ice. The Continentals sealed it with a empty-net goal at the 18:55 mark, and with this victory, Hamilton College will now play No. 1 Norwich University in the quarterfinals.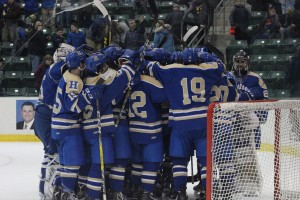 "I feel like this is a hardened, kind of playoff team," Hamilton College head coach Rob Haberbusch said postgame. "It really feels that way, and we have a lot of players that have playoff experience, prior to Hamilton at prep school and in junior. I think we handled it really well and wasn't surprised that we did."
David Jacobson started in net for the Lakers, making 26 saves on 28 shots. Buitenhuis, the NESCAC Player of the Year, did not allow a goal until the final stanza, keeping the Lakers offense to just one goal all night for only the third time this season. Oswego State was also shut out once this year in a 3-0 loss to Nazareth College on Dec. 31.
"Not blaming our goalies, we have to score," head coach Ed Gosek said. "But I'm not sure the last time as a program where I can say we played poorly and our goalies won us a game. And you need to have that at some point. So, it's not faulting them, our offense needs to be better. We gave up our average tonight. I mean take away the empty-net goal, we give up two goals a game. We average over four, we score one, not going to be successful."
Hamilton College walked away with a 1-0 lead after a fast and physical opening period. Shots were tied 11-11 after 20 minutes, but an unlucky turnover in the low slot from Matt Galati allowed Murden to bury the loose puck for the game's first goal at 9:30 of the first period. Jacobson made the initial stop on a bad-angle shot to his left, but did not appear to see the puck change direction and bounce to Galati as he was still standing. Galati lost the puck, allowing Murden to pounce on the loose puck and bang it past the transfer sophomore.
"It seemed as though the rebound popped out," Murden said. "I think one of their players actually possessed it in the crease, and I just saw the loose puck. I'm not sure the goalie knew where the puck was. It was a scrappy play. I just tried to bang the puck. I didn't even see it go in the net, to be honest.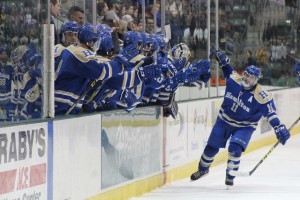 Buitenhuis continued his stellar effort in net, despite a few pucks laying in and around the crease uncovered. He kept the Lakers scoreless through the first 40 minutes with 23 saves, allowing the Continentals to then extend their lead on the power play.
Devin Campbell's second penalty of the contest sent Hamilton College to its second power play of the game. Rory Gagnon had the first high-quality chance for the Continentals on that man advantage, but Jacobson was able to come up with a big save through traffic off his left pad to keep the game at 1-0.
Shortly after, however, Hamilton College struck to double its lead. Bennett Morrison let go of a hard wrist shot from just inside the blue line, and it was deflected home by Murden from the hash marks for his second goal of the evening at 12:54 of the second period.
Murden injured his jaw and missed nine games, coming back for the NESCAC final against Trinity College. In that game, the senior tallied his 100th point of his Continental career. Murden now has four goals in his last four games played.
"Obviously, I wasn't sure about my own personal future a couple months ago, but I was confident that we had a strong enough group of guys to will through, push through, finish the NESCAC on a strong note and hopefully keep winning so that there is a chance I could come back," Murden said. "I'm just happy to contribute and be on the ice in any way."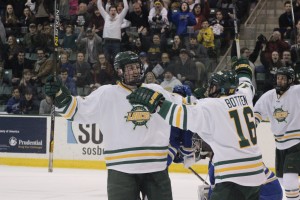 Freshman defenseman Chris MacMillan finally got the Lakers on the board at the 13:13 mark of the third period. His second goal of the year got the Lakers back to within one after Kenny Neil found MacMillan dropping down to the hash marks. The freshman whiffed on his initial shot, but found the puck quickly and beat Buitenhuis over the left pad.
From here, the Lakers began to control play, trying to tie the game. Hamilton College iced the puck and was forced to take a timeout with 4:08 left to play with the Lakers knocking on the door. Oswego State failed to do so and took a timeout with 1:36 to play, pulling Jacobson for the extra attacker.
Murden and Alex Botten lined up for a faceoff with 1:14 to go after a wrist shot from Neil deflected up and out of play. Botten originally appeared to win the draw back, but Murden dove behind Botten and knocked the puck back to Morrison.  Morrison wound the puck around the boards, and Neil Conway chipped it out of his own zone. This gave Jon Stickel an open lane to the empty net. Stickel did not miss, scoring his third goal of the season to seal it.
The Continentals last victory at the Marano Campus Center Ice Arena came back on Dec. 31, 2010.
Oswego State ended its season on a two-game losing streak, dropping to 21-6-1. Hamilton College earned its 20th win on the season and is now 20-4-4 as they prepare to travel to Vermont for its quarterfinal matchup.