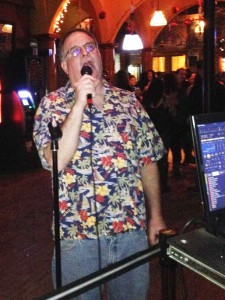 Michael Johnston is always on the move.
Except for a moment when he sat in Lake Effect café, a walkie talkie in his hand, surrounded by Oswego State students he might have seen out at Old City just a few days before.
It doesn't phase him, though. Johnston, 61, has been an electrician for over 40 years, 20 of them at Oswego State. At this point, he has met too many people and students to count, whether it be through his work or his nighttime activities at the bars in downtown Oswego.
Known to many as the "Hawaiian Shirt Guy," Johnston is a regular at the mug night dance scene every Thursday at Old City. Johnston boasts that he enjoys wearing the shirts because people immediately recognize him, but there's another, more relatable reason for the colorful clothing.
Johnston's stepfather was a marine. At age 6, Johnston moved to Hawaii when his stepfather was stationed there. He lived there for three years.
"I remember the tourists coming in when I was a kid; they all brought the Hawaiian shirts and all looked sharp," Johnston said. "You could tell they were tourists because they wore Hawaiian shirts. So I said, 'ya know what? I'm going to wear Hawaiian shirts.' Then everyone knows, when I come out, I'm going to have a ball."
Johnston has lived in his fair share of different areas throughout the country. Born in Ohio, he moved to California in 1958 where he grew up. He then moved to Oswego 20 years ago with his wife, Carolyn, an Oswego native. Johnston said his wife has been providing daycare services for 30 to 40 years.
He loves the calmness of Oswego compared to the San Diego area he grew up in. There's just enough space to dance, too.
"Oswego is great because it's not crowded," Johnston said. "You can have a good time because people are very nice here."
Johnston isn't just a celebrity in Oswego. Nearly every year, he visits his brother in Tennessee and dances the night away at Riverbend, an annual music festival that occurs every June along the Tennessee River.
In a 2015 article for the Chattanooga Times, a daily newspaper in Chattanooga, Tennessee, Johnston's dancing is described as "completely self-unaware." However, he's completely aware of the joy he finds in music and dancing. He said he will even dance while walking down the street as people honk and wave.
"I've just loved music ever since I was a kid," Johnston said. "It's all about fun for me, having fun with different people."
His favorite artists are from the '60s through the '80s and he has been to at least 40 concerts in his life.
Johnston has no plans to slow down anytime soon, even after retirement. He said he would like to retire at age 65, but still intends to travel as much as he can.
As he left the library to go to Scales Hall to fix exit signs that had been knocked down, Johnston claimed that his ride had not arrived yet. He seemed to be the type of person that takes everything in stride, though. He shrugged his shoulders and said that he would just walk. In fact, he seemed excited at the prospect.
He is, after all, always on the move.