Opening for acts like Foster The People and Phantogram is more than likely one tall order to overcome. Both acts feature some of the most compelling beats and lyrical compositions in the music industry to date- known for putting on stellar performances, they have found their place in the music industry based solely on differentiation and niche-creation. Each present an electro-pop, alt-rock sound that is inherently their own and impossible to imitate well.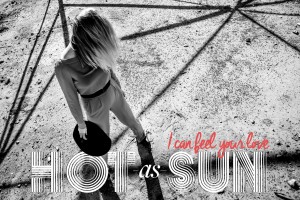 For an artist like Jamie Jackson, whose project Hot As Sun has just released its latest EP, the goals presented by the bands she's opened for seem parallel. To create something that is new, original and ultimately her own is necessary. With the release of "Little Friend," Hot As Sun accomplishes these objectives.
Featuring five eccentrically composed tracks, Hot As Sun's "Little Friend" reaches for the sun with ease. Like Phantogram, Hot As Sun's music brims with glistening electronic beats and rock-centric compositions. While one could argue that the alt-girl vocals presented are reminiscent of Phantogram's Sarah Barthel, White Seas' Morgan Kibby or alternative-queen Lana Del Rey (whose guitarist assisted with the EP's creation), each of the songs on "Little Friend" is intrinsically Hot As Sun's.
Opening with "I Can Feel Your Love," Hot As Sun gleams with angst. Best moments include Jackson singing lyrics "I come alive," and by the time she hits the chorus, audiences should feel satisfied and drawn in. It's a fiery little track with all of the apathetical romance so typically characterized by the hipster generation. The instrumentals are as enticing as the vocals, and combined the track is a doozy.
On "Never Be The Same," Hot As Sun shines through glistening alt-rock beats and tormented melodies. As the track thumps along, listeners will find themselves swaying along. "Never Be The Same" is slick and retro in feel, but at the same time refreshing and revolutionary. Where it plays this type of '80s sound, Jackson's vocals do enough to overcome the antiquity presented, allowing for nostalgia rather than repetition. For a track titled "Never Be The Same," fans will be hoping that this beat is the difference, not the entity left behind.
Hot As Sun's "Little Friend" oozes with lo-fi electricity. Like a sweltering summer day, each of the EP's tracks burn deep. For a release far away from the typical mainstream, pop approachability seems to run through its veins. It's entertaining without being frivolous, dark without being pandering and atmospheric enough to make the most uninterested listener feel something. "Little Friend" is an accomplished record, even if it is just five songs long.
Rating: 4 out of 5