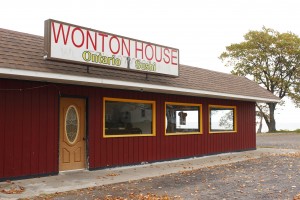 Wonton House has been a staple restaurant for Oswego State students since its opening seven years ago. On Monday, the restaurant closed.
Jason Shi, the owner of the business, closed Wonton House because his parents, who were the primary cooks for the restaurant, had to suddenly return to China to care for his ailing grandmother.
"You've got to take care of your family first," Shi said.
Wonton House is a participant in Oswego State's off-campus program with the meal plan. Students can access the menu via Web Food and order food using Laker dining dollars to be delivered straight to their resident halls.
"We know this creates an unexpected change in our program, but…we are looking at potential restaurants to fill this void in the program," said Steve McAfee, director of cash operations and catering for Auxiliary Services.
Shi and McAfee have visited four Chinese restaurants in the area in their search for an alternative Chinese restaurant to partner with Oswego State. McAfee said he hopes the replacement option will be available to students by January.
Justin D'Antonio, an Oswego State senior, said he has ordered from Wonton House at least 20 times.
"I get some good MSG dreams sometimes," D'Antonio said. "The food is delicious; we get huge serving sizes."
D'Antonio, a physics and math major, said he is upset and disappointed that Wonton House has closed.
"I guess I'll have a new Chinese food place," D'Antonio said. "Or I'll probably order a lot more Sub Shop."
Sub Shop, Domino's, Wonzones and Fajita Grill are currently part of the program that allows students to pay for their food using Laker dining dollars.
"It doesn't really make a difference to me if they close," said Nick Ransbury, a senior.
Ransbury said while he has only ordered Wonton House food a few times, he thinks the option of Chinese food should be offered so students have several choices of what kind of food to order.
"I feel like you can go to Lakeside for Chinese food, and that satisfies," Ransbury said.
When Shi attended Oswego State, he realized students wanted food delivery options late at night.
"We needed something nearby," Shi said. "Back then, delivery was horrible on campus."
Shi graduated from Oswego State with his MBA in 2007. He lives in Oswego with his wife and two children.
Shi also owns Wonzones, an Oswego calzone company, which will remain open. Wonzones has the highest number of orders of the restaurants that partner with Oswego State, according to McAfee.
"I enjoy talking to the students," Shi said. "They come in late at night drunk; I've got fans coming in…That's the college experience people do miss when they leave."
Shi said he is grateful for the help McAfee and others at Auxiliary Services have given him.
"I've had a very good experience. I can't ask for anybody better to work with," Shi said. "And the students of course. I thank them. They're awesome."
Shi said Wonton House was typically a popular place for students to order food.
"From midnight to two are my peak hours. One night I delivered 100 orders in one hour," Shi said.
The Web Food program received 55,000 orders from students last year, according to McAfee.
Auxiliary Services is taking suggestions from students regarding what business they would like to see added to the Web Food options. McAfee said any feedback students can send is appreciated.