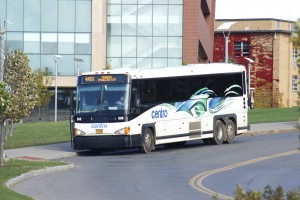 Students taking a bus to go home for the weekend, to shop at Destiny USA or to enjoy a day trip, will now pay a fee to travel to Syracuse for a trip that was once free.
The Centro bus travels from the Marano Campus Center to Syracuse. Tuesday through Friday while school is in session. Last year, this service was free with an Oswego State student I.D., but starting this semester the fee was implemented at $2. Student Association is responsible for the increase.
"We just couldn't afford to keep on paying more and more for this contract, so we had to figure out a way to decrease cost," said Tyler Jodeit, SA assistant director of finance.
"We asked senators and other students about paying $2 to go to Syracuse and it seemed like it wouldn't be much of an issue."
According to Jodeit, the reason for the rise in cost was due to an increase in the number of students traveling to Syracuse and the extra expense to pay for buses to accommodate them.
"It has been a reoccurring issue where the amount we budgeted for Centro contact to take the bus to Syracuse the budgeted amount has been much lower," Jodeit said. "Every year, there are more students that want to go to Syracuse which means that [Auxiliary Services] will call more buses."
According to Michael Flaherty, director of Auxiliary Services, Centro service is contracted through Auxiliary Services, which includes the Green and Blue on-campus shuttles and subsidizes traveling to the Syracuse Regional Transportation Center, Destiny USA or the Metro Center.
These services are funded by the $25 transportation fee on a student's bill. Student Association supplements the cost of the Syracuse Express bus from the student activity fee.
For the public, the Syracuse express bus service is $5, according to Jodeit. SA has fronted the total cost in the past for students but this year, limiting their funding to $3 per student, even though they have continued to budget for a total of $73,000 out of the student activity fee.
In addition to the price, students like senior Aloaya Tisor, originally from downstate New York, are bothered by the extensive inconvenience of travel.
"The problem is that taking two buses just to get home is an unfair disadvantage to students who live in the city," Tisor said. "My wish is to have the school subsidize a bus route for students like myself to get to the city instead of taking two separate buses. This will make students from the metropolitan area's lives easier."
According to Tisor, who also sits on Faculty Assembly as a SA senator, she plans to bring this topic to the administration.
"I heard the students say the College Express Bus is too expensive and the extension of the Trailways service arrives in Oswego too late on Sunday evening," Flaherty said. "Our plan is to reach out to a large group of students to get some feedback as to what services might better meet their needs and then assess how we might be able to provide those services."