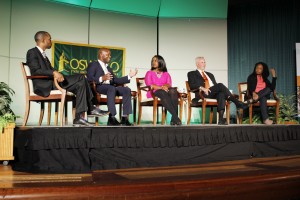 Five professionals in the media industry came together as panelists on stage in the Sheldon Ballroom to discuss diversity in the media.
Moderated by Student Association President Christopher Collins-McNeil, the 11th Dr. Lewis B. O'Donnell Media Summit, titled "A Mile in My Shoes: Reflections on Equality and Diversity in the Media," featured Kendis Gibson '94, Jennifer Sanders, Dave Longley '94 and Michelle Garcia '06.
According to Oswego State President Deborah Stanley, the Media Summit helps students get a look at where the industry is headed and to begin thinking about where they can best apply their talents.
Sponsored by 1976 alumnus Al Roker and 1977 alumnus Lou Borelli, the event was organized by professor Michael Riecke of the School of Communication, Media and the Arts with the help of student volunteers.
Stanley set the stage of the Summit with her opening remarks.
"This year's Summit challenges us to consider, 'What is the risk if the media don't mend a decade-old problem: lack of diversity and inclusion on both sides of the camera?'" Stanley said.
Collins-McNeil began the Summit by introducing the panelists.
Kendis Gibson is an ABC correspondent for programs such as "Good Morning America," "Nightline" and "20/20." After over 20 years of reporting, he has dealt with diversity in the media, including reporting on the front lines of the riots in Ferguson. Graduating from Oswego State in 1994, he built his career out of college at the local WHEV-TV and the NBC affiliate in Rochester, New York.
Jennifer Sanders is a news anchor at "The Morning News" and "The Noon News" at NewsChannel 9 WSYR-TV in Syracuse, New York. Originally from Texas, she earned a bachelor's degree in mass communication and spanish at Texas Lutheran University and a master's degree in journalism from the University of North Texas.
Dave Longley is the chief meteorologist for WSYR-TV NewsChannel 9, the ABC Affiliate in Syracuse. Longley joined the station after graduating from Oswego State in 1994. As an on-air meteorologist, he was diagnosed with multiples sclerosis, a neurological disease that has affected his motor skills.
Michelle Garcia, previously the editorial assistant at The Advocate, an American LGBTQ-interest magazine, is currently the identities editor at Mic.com, a news site focused on the millennial generation.
Garcia graduated Oswego State in 2006. During her time as a journalism student, she was two-year editor-in-chief at The Oswegonian and spent four years performing for the Shaun Cassidy Improv Comedy Troupe.
Collins-McNeil opened the discussion by asking the panelists, "Why does diversity and inclusion matter in the media?"
All four panelists agree that, whether on a local or national level, different perspectives are crucial in a news room to represent the different perceptive of the public that views the media.
"You need people who can talk about, and bring perspective to, our shared experience of watching and reading and sharing the news," Garcia said.
Sanders reflected on a local work experience and how she challenged her editors to run a story that they considered irrelevant.
"We don't need something negative to happen in order to highlight something good that people of color or people different then us do," Sanders said. "Like Kendis said, having that voice there, that different perceptive to give context to the situation."
Gibson shared an experience where ABC flew him from Los Angeles, California, to the other side of the country in Charleston, South Carolina, to cover a story about a minority shooting. He debated whether or not it is important that the media has a minority covering a minority story.
Longley suggested that the media is perpetuating the very idea that they are trying to resist and Sanders.
"At the end of the day I know I represent my community and my community are people who look like me and so I have to a voice for them but I am also a voice for the other communities that I represent," Sanders said.
The conversation lead into a discussion about how personal identity effects how the media reports.
Garcia addressed how everyone carries a different background, but coming together and bringing intersectionality can help create equality in the media.
"Personally I am black, latina, I'm queer, I am a feminist and I am a journalist," Garcia said. "But racism, racism and sexism and classism and ableism, all of those are tied together, they all affect each other the news that we cover are interconnected in some way."
The panel agreed that when crafting a story, they try to connect the story to their audience and make sure that their audiences find meaning in the story.
Longley spoke about how his disability has impacted his career and how he refuses to let his disability effect his passion for the weather.
"[My disability] helped me connect with people and be able to tell people how I was feeling and how it has impacted me because bottom line through all of this is that I love doing the weather," Longley said. "Yeah… I have to be on TV to do the weather and yeah, it stinks that I have MS, but what are you going to do about it, you can't get rid of it. Dealing with my disability, it opens viewers to people that are out there that are otherwise normal. My goal is to say, 'You know what?' I am a normal person."
Towards the end of the discussion, the panel gave advice to the students they were addressing. Gibson mentioned the importance of diversifying a student's skills to make them successful compete in the industry like learning a language.
Sanders encouraged students to get away from their home town and open themselves to new experiences and perspectives. Longley agreed and said he thinks people should step out of their comfort zone.
"I was always told that when you are uncomfortable you are just getting out of your comfort zone and being uncomfortable is good because you are learning how to adapt," Longley said.