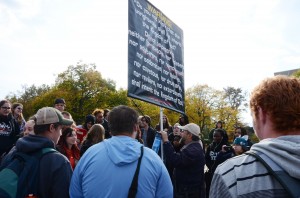 A group of students gathered around a lone traveling preacher on Monday afternoon on the Oswego State campus.
The man, Jim Deferio, lives in Syracuse, New York, and said he has traveled to 60 campuses across the country, both on the east and west coast, to preach his interpretations of the Bible.
Deferio was holding a sign with a Bible verse that read: "Warning: Do you not know that the unrighteous shall not inherit the Kingdom of God? Do not be deceived; neither fornicators, nor idolaters, nor adulterers, nor homosexuals, nor sodomites, nor thieves, nor covetous, nor drunkards, nor revilers, nor extortioners shall inherit the Kingdom of God."
Deferio labels today's society as his reason for his travels and speeches.
"The problem today is that truth is hate to those who hate the truth," Deferio said. "Love warns people. This society is very depraved and I place much blame on the epidemic of divorce in this nation and all of the dysfunctional families and on pastors who compromise the Bible and refuse to preach the truth."
Deferio said he attended Oregon State University and the SUNY College of Environmental Science and Forestry in Syracuse, where he majored in biology and the science aspect of forestry.
University Police Chief John Rossi said Deferio was initially asked to leave after a disturbance call due to improper paperwork. Deferio then went to Campus Life, where he followed the appropriate procedures to reserve a spot until 5:30 p.m.
Defario's presence attracted a crowd of passionate students. The response was mixed, with most students acknowledging his right to be there but disagreeing with his message.
"Opinions are opinions, everyone's entitled to have them," junior Kyle Hanzl said. "He's talking about truth and I don't think there's any truth in anything he's saying, it's all just personal opinion. I don't think he's wrong for believing it but I don't think he's right for bringing us down with his beliefs."
Other students thought Deferio's presence should not have been allowed at all.
"This is an institution of higher learning and this hateful speech is not allowed in a place of so many diverse people," said Andre Nichols. "When somebody like this stands here and speaks hate, and this is allowed, this is wrong."
Nichols was holding a sign that read "God loves all!!! #LoveAlwaysWins." He said he made the sign because he was "personally attacked" by Deferio for being gay.
"I personally did not allow him to stand here and speak what he is speaking right now," Nichols said.
However, Deferio said that he considers himself fairly calm and tries to use language from the Bible when addressing people.
"If two guys start kissing or something like that I'll say 'You know what, you're wicked,'" he said. "Judas betrayed Jesus with a kiss, also. There's nothing new under the sun. Why would you mock me and mock the Bible?"
According to Rossi, Deferio once filed a lawsuit against SUNY Albany.
"His attorney recommended that he not protest on any SUNY campus until the lawsuit was resolved, which it was," he said.
Deferio has not been on the Oswego State campus in four years, Rossi said.
"Albany instituted an unfair policy to severely restrict and discourage First Amendment rights and they changed their policy and had to pay lawyer fees, from which I received nothing," Deferio said of the lawsuit.
The Director of Campus Life, Earnest Washington, was present at the debate when more students began gathering to express themselves.
"I think it's a great dialogue, it's a great conversation and he's exercising his First Amendment rights," said Washington.
According to Washington, Deferio was not protesting.
"That's the reason I came out, to make sure everything was being conducted in an orderly fashion," he said. "I think the students are brilliant, I think they're bright, I think they're asking a lot of great questions."
However, Washington said some students were not conducting themselves in a respectful manner.
Some students were also concerned with the lack of supervision at the debate.
"I'm shocked there aren't more school officials here to make sure nothing bad happens, because if they were to go down those steps and push him down, that's going to be a problem," senior Jackie Shikora said.
However, Rossi said that an officer was checking the area periodically.
Not all students were displeased with Deferio's presence. Sophomore Meaghan Weinell believed he was trying to help people.
"According to his faith, it's necessary to spread the word that this is what he believes is wrong," said Weinell. "By spreading the word he probably believes that somebody will be saved."
Senior Helen Banjoko did her best to spread love among the crowd of students as the debate went on.
"It's supposed to be a community of each person showing love to each other and learn about each other," she said. "They think he's hating them and at the same time they're showing the same emotion towards him. So we're just showing a picture of hate and no picture of love."