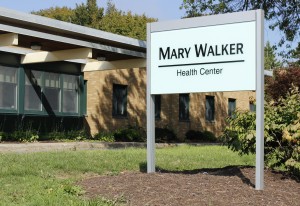 Aside from the aesthetically pleasing seasonal aspects of Fall, there is one that is often dreaded, the start to cold and flu season.
At this point in the year, there have been no reported outbreaks of the flu according to the Center for Disease Control (CDC), and no confirmed diagnosis on campus.
This is no small feat given that the average Flu season begins in October and ends roughly in May with peaks in December, February and March.
In recent years, there have been flu pandemics in addition to the mainstream influenza. These pandemics occur when a new strain of the virus is quickly spread throughout the world, the most recent account was during the 2009-2010 H1N1 "Swine Flu" pandemic.
Angela Brown, director of student health services and her team of nurse practitioners at Mary Walker Health Center are ready and armed for the flu. They are encouraging proactivity against the flu by setting up walk-in vaccine clinics. These vaccinations were available to students for free and are held twice a wee at Mary Walker.
Although not proven to completely protect against the flu, getting the vaccine has proven to significantly reduce the chance of catching the virus.
For those who have succumbed to the flu, the health center is filled with nurses to help, diagnose and treat students so they can get back on their feet. While there is no antibiotic to cure the flu, drinking liquids, getting rest and taking a fever reducer should help shorten the length of sickness.
However, it is important to realize that time is the only healer for the flu and taking medicine will not shorten the time it takes for the flu to run its course.
For those feeling slightly under the weather, Mary Walker Health Center is prepared with its walk-in cold clinic, which allows students to obtain medicine without having to wait for an appointment, Monday through Friday from 8 a.m. to 10 a.m. Also, it gives quick and easy relief for busy days and helps everyone have a healthy winter season.
Statistically speaking, Brown made note that college students are among the least likely to suffer from the flu when compared with the young and elderly. The majority of people who suffer from the flu are able to make a full recovery in about 10 days, however more serious consequences, such as hospitalization, pneumonia, and even death, can arise if not carefully treated.
If feeling exceptionally ill, there is a test to be positive one has the flu.
Doctors test their patients in the nasal cavities and offers same day results. This can help patients to be treated properly and avoid misdiagnoses. Most symptoms are similar to that of a cold or sinus infection.
These can include a higher fever, body and headaches, and a powerful cough. If symptoms persist for longer than a day, it may be a good idea to stop into Mary Walker Health Center for a proper checkup.