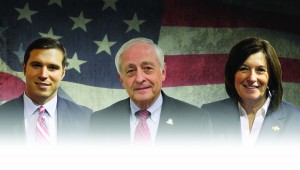 Oswego City residents showed their support in attending the 2015 mayoral debate Wednesday at 6 p.m. in the Oswego High School auditorium.
City Councilor Billy Barlow, Oswego County legislator Amy Tresidder and incumbent Thomas Gillen addressed topics ranging from economic development to winter parking. The debate was moderated by Colin Hogan of The Valley News.
Residents expressed their perspectives coming into the debate.
"I support Barlow," resident Jennifer Losurel said. "I wish them all good luck, but let the best candidate win."
After the candidates settled on stage, opening statements began.
The questions included were from residential readers of the Palladium Times that sponsored the debate.
According to the U.S. Census Bureau, Oswego's population has decreased by approximately one percent since 2012 and in that same time the tax rate has risen to nearly 55 percent, said Hogan.
Candidates agreed there is a need for tax cuts.
Tresidder acknowledged that the greatest source of revenue in Oswego City is the sales tax revenue, which shows the need for growth and support in businesses as well as the need to attract more people to Oswego.
"We have to support ourselves and support our business because that is our future," Tresidder said. "We cannot remain isolated in Oswego. If we want to survive, we have to become part of Central New York. That is my goal."
Gillen agreed and claimed that is what his office has been doing over the last few years. He mentioned the increase in sale tax revenue and stressed that it was a gradual process that he plans to continue.
Barlow introduced the idea of reviving the neighborhood to increase sales tax revenue.
"The answer is to attract more people to not only shop and pass through the city of Oswego, but to live in the city of Oswego," Barlow said. "I believe in neighborhood revitalization."
Barlow plans to restore the Code Enforcement Department to enhance the neighborhood so more people want to live in Oswego, therefore increasing the city's sales tax revenue.
As the debate continued, candidates made it known that revitalizing run-down communities is a top priority.
"We don't have the best first impression…for those driving through our neighborhoods," Tresidder said.
The discussion on infrastructure spanned from city potholes to vandalized neighborhoods. According to the roster, the Oswego Code Department requires immediate reformation.
Barlow said landlords are accountable for sub-quality housing.
"Those homes have looked like that since I was a kid," Barlow said. "Managing a code department that is prioritizing the city's needs, expediting the process in which a violator is cited and brought to court. Right now we're not even getting these landlords to court."
If elected, Barlow would create a "Quality of Life" hotline to help relay residential complaints to city officials.
The older homes are decorated with chipping paint, garbage on the front lawn, worn doors, broken windows and graffiti.
"I know people who don't dare sit on their front porch anymore," Tresidder said. "They are no longer comfortable in their neighborhoods. This has to stop."
These properties plummet in residential value and lead to an increase in cheap, run-down college rentals.
"I would definitely hold landlords accountable," Tresidder said. "When you live in a city that is 50 percent rentals, it is not a recipe for growth. It invites crime and it does not provide for pride in our community. We owe our taxpayers better."
Gillen defended his current position.
"We have been doing that," Gillen replied. "We have to look at the reality of it. We have aging people, some have passed away and some who have moved away. Their kids will come back and [sell the property] for $20,000. The landlord will turn into a multi-housing-unit and it's used by students."
Currently, the Oswego Renaissance Association (ORA) utilizes community grants to redesign neighborhoods. The project, which renovated 96 homes in 2014, is funded by the Shineman Center, the Oswego State administration and Pathfinder Bank.
A lack of city commerce is attributed to poor fiscal growth, disengaged homeowners and low job development.
"Business owners become frustrated when they want to increase the attractiveness of their building and they can't do it," Tresidder said. "They have to jump through many hoops to do that."
Gillen explained Oswego requires an efficient source of capital.
"We need to have a smart, healthy business environment," Gillen said. "We need a lot of help from people who invest in this community."
Barlow explained that residents migrate to communities with increased opportunities.
"I've talked to a lot of seniors in the community who quite frankly say 'As soon as I retire I'm out of here'," Barlow said. "We need to be more economic development focused, pursuing developers and investors."
According to Hogan, residents expressed concern last winter about the alternate street parking plan. The candidates addressed these concerns with plans for handling difficult street parking in the city during the winter.
Gillen admitted that his office tried inputting the alternate street.
"It could have worked if people supported it, but because people didn't support it, we will have to try something else," he said. "The reality is if you want people to invest in our older communities you have to provide parking for them. There is no easy solution in this. I don't have a quick answer to that. We tried things. We will continue to try different things."
Barlow disagreed and supported the previous parking ban that provided parking in specific streets between the hours of 1 a.m. to 6 a.m.
He is open and favorable to the idea of issuing permits to over occupied residents who do not have driveways.
Tresidder agreed with Barlow's support in bringing back the parking ban.
"The alternate street side parking last year was a disaster," Tresidder said. "I don't think anyone could argue with that. I would definitely go back to the winter ban"
Last winter an alternate street side parking plan was the worst for residents, according to Tresidder.
"We cannot control Mother Nature, but we can control what we do about the parking at night, and we need a ban," Tressider said.
Tresidder recognizes the responsibility of the position and wants to make Oswego City proud by looking ahead and making sound fiscal decisions for the community.
In his closing statement, Gillen reminded residents about all the progress that has been made. He said that he is not afraid of being unpopular but plans to continue progress.
Barlow reiterated his plans of turning visions into improvement in Oswego. He looks forward to having the chance to show his experience in January and he plans to work for residents with energy, conviction and passion.
The debate opened some residents' perspectives to the candidates' different points of view.
"I got a lot out of it," said Oswego resident Kay Pullen. "I didn't know what I was going to expect but they gave some viable questions and answers and solutions I think, so hopefully they act together and do a good job for the city."