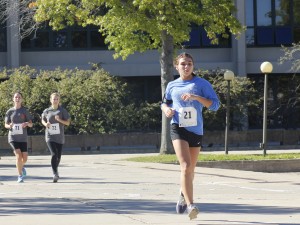 More than 175 people gathered to run 3.1 miles on Saturday to participate in the Great Pumpkin Run.
At 1:30 p.m., the participants started the 5k at Marano Campus Center. They ran down the sidewalk towards Shineman, then continued running past all of Lakeside, while people standing along the sidewalk cheered for the participants.
There were many people standing along the course supporting the runners, including freshman Nathaniel Bates.
"I'm here supporting my friends today," Bates said. "I know exactly the pain they're going through and it just helps to have supporters."
Then the participants ran around West Campus, and finished the race by running past Hewitt, towards a cheering crowd.
"I liked the course," said freshman Jamie Aranoff. "It was a lot of cement which is fine for trainers, but not great for the knees. Overall though it was fun."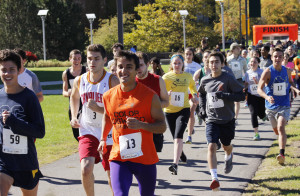 Freshman Jake Carrol also enjoyed the race.
"It was my first time running the Great Pumpkin Run," Carrol said. "I really liked the competitive spirit."
Alejandro Lara finished first for the men, while Nelson Morales followed behind and finished in second. Chris Triamburk finished third.
Shannon Hurley placed first for the women, with Lauren McNamara in second, and Katelyn Proulx placed third.
The top three males and females finishers received a trophy. All of the participants received a water bottle and the first 100 people that signed up for the race received a free t-shirt.
After the participants crossed the finish line, they celebrated by eating donuts from Dunkin Donuts and drinking apple cider in the first floor Marano Campus Center Food Court. For $1, the participants were also given the option to decorate and paint a pumpkin.
Many items were raffled off including earbuds, a GPS watch and a Fitbit.
Prizes were also handed out for the student club, organization, or residence hall floor that brought the most people to the race. A prize was also given for the best costume.
"I enjoyed looking at all the costumes," said freshman Sammi Flavell. "There were people dressed as pumpkins, some people had on tutus and I saw a group of people in bathrobes."
All of the proceeds from the race benefited the Susan G. Komen Race for the Cure.
Susan G. Komen was diagnosed with breast cancer at age 33 and died in 1980 at age 36. Her sister, Nancy Brinker, founded the organization in 1982.
Since the Komen Race for the Cure was started, it has grown to four continents with more than a million participants.
Komen Race for the Cure has been able to provide $2.6 billion to over 2,900 researchers around the world.
According to the Susan G. Komen race for the cure official website, it is estimated that there will be 231,840 new cases of invasive breast cancer and 40,290 breast cancer deaths in 2015.
"It's good to come out and support everyone to make sure they know that people have their backs," said freshman Derek Hempstead. "The race is for a good cause."