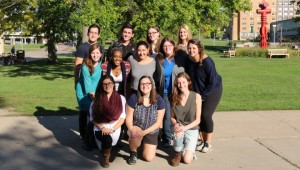 Everyone involved in this year's Lewis B. O'Donnell Media Summit have been hard at work for the past couple months to make Oct. 21 a good one.  With less than two weeks remaining, this year's panel will be all SUNY Oswego alumni. Kendis Gibson is an anchor and reporter for ABC News who graduated in 1994. 2006 graduate Michelle Garcia is the identities editor at mic.com, while Dave Longley '94, is the chief meteorologist at WSYR­TV News Channel 9 in Syracuse.
The theme for this year's panel is diversity and equality in the media, but a wide range of the issues will be covered during the discussion.
"The people we chose to come kind of surrounded the idea of the theme and who would fit into it" co­-event director Victoria Love says.
Co­-event director's Kalie Hudson and Victoria Love both pointed out the different perspectives each of the panelists will bring to the discussion.
"All the panelists represent a different area of equality. We have men and women on the panel, Dave Longley is an on-­air talent who has MS, Kendis Gibson reported on Ferguson, which relates to our topic of reflecting on diversity and equality in the media", Hudson said.
With the new addition of a student moderator, who is Student Association President Christopher Collins-McNeil­, is a change from previous years moderators seeing he's a student.
Hudson says Collins-­McNeil's background in communications and politics will be a great addition to the discussion.
"The idea of having a student moderator actually came from Lou Borelli, he felt that there should be a student up there leading the discussion and the questions", Hudson added.
In addition to the change in moderator, this year's summit will be held in Sheldon Ballroom, bringing it back to it's original venue.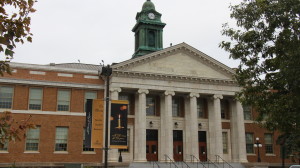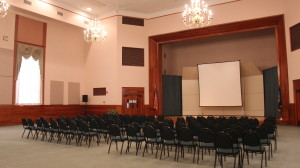 Hudson encouraged students to get in line as soon as they can so they can get a seat, "When the doors close at three, they're closed so make sure you get there early!" she said.
One thing that Hudson and Love both recommended students check out is the career connectors panel, that will be held right after the main panel.  This year's career connectors include: Adam Campbell­ Schmitt '06, a television writer and comedian; Stephanie Meyering '08, an account executive at Kellen Communications in NYC; Mike Toper '10, video journalist for Time Warner Cable News in Ithaca; Chris Horvatits '13, reporter for News10 NBC in Rochester; Mary Godnick '14, senior brand strategist for Terakeet Corporation in Syracuse; Anthony Hill '14, multimedia journalist for 22News in Springfield, MA.
Hudson says this event "Offers the opportunity for networking with these alumni who have become really established in their field having graduated so recently from Oswego".
Oswego State's 11th annual Lewis B. O'Donnell Media Summit will be held in Sheldon Ballroom on Oct. 21 at 3 p.m. with the career connectors panel right afterwards.  For more updates on the summit follow them on Facebook, Twitter and Instagram.