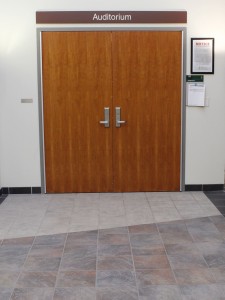 Two years ago, the Student Association Programming Board (SAPB) ran a film series in the Marano Campus Center auditorium every Friday night and Sunday afternoon. This semester, they brought it back.
The film series was notable for bringing recently released films, that had only been out of theaters for a few months, to the auditorium for Oswego State students to enjoy. The films were popular amongst moviegoers, one notable example being "The Avengers."
The SAPB film series has been brought back in an effort to appeal to students interested in watching newly released films without paying a single penny.
Imani Cruz, the director of SAPB, is excited about the future of the film series.
"I chose to bring the film series back as one of my initiatives as director because I saw the value in watching movies that are accessible and free of charge," Cruz said via email.
The ability to watch fresh-out-of-theatres films free of charge is a luxury Oswego State students can take full advantage of thanks to the efforts of Cruz and the SAPB films coordinator, Khalil Waldron.
"We contract with an outside company that supplies [us] with the most recent films per semester," Cruz said. "Our films coordinator, Khalil Waldron, chooses the films months in advance according to holidays and what is most popular."
Despite this opportunity, the film series faced a challenge in its original incarnation that was responsible for causing such a long hiatus. According to Cruz, low attendance originally pushed the film series to its end. However, strong attempts have been made to make sure this does not happen again.
"We have made efforts to go above and beyond with our advertising and our showings have had 100-plus students," Cruz said.
According to Cruz, that high amount of students refers to the series' second showing this semester, "Jurassic World," which was this summer's biggest blockbuster.
According to entertainment news website The Wrap, "Jurassic World" is now the third-highest grossing movie of all time. Despite that, students still had not gotten enough of the dinosaur action-adventure sequel.
"It was definitely a huge success for all of us," said Cruz. Cruz attributes this success to a big improvement in SAPB's advertising strategy after the first sub-par showing, which only brought in seven students. Cruz said that Waldron was disappointed and immediately made an effort to curb the poor turn-outs before it happened again.
"He actually made promotional videos and posted them to Instagram, printed out advertisements and all of the SAPB executive board members advertised on our respective social media sites to let everyone know about the movie," Cruz said.
With so many students seeing the film on a Friday night, Cruz feels the films deter students from going out.
"Instead of paying to attend a movie off campus, you can watch a fairly recent movie with your friend right here on campus for free," Cruz said. "Our late night initiative works to keep students on campus by planning fun and entertaining events that they'll enjoy going to."
Cruz said that SAPB plans to continue the film series into next semester and while she does not want to reveal the full schedule at this moment, she did tease some upcoming showings students can anticipate, such as "Straight Outta Compton" and "Pitch Perfect 2."
Cruz said SAPB will also be hosting a Halloween-themed film event, decorating the auditorium for a showing of "Insidious."
Each film will play on Fridays at 7 p.m. and Sundays at 2 p.m. in the Marano Campus Center auditorium. The featured movie will be advertised outside the auditorium the week of its scheduled showing.