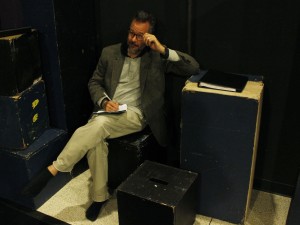 Two months, six days.
That's how long Christopher Carter Sanderson said he has been employed at Oswego State in the theatre department. During his short time at Oswego State, he has already become integrated into the theatre department and is shaking things up as a director and professor. Sanderson's first semester at Oswego State is off to a fast-paced start.
Jessica Hester, associate professor in the theatre department, said Sanderson had several qualities that made him an ideal candidate for the position. She noted his experience and strong commitment to teaching.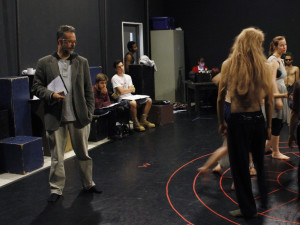 "We did a national search, narrowed the job candidates to those we wanted to interview through Skype and then narrowed it again to those we wanted to interview on campus," Hester said. "The three candidates who came to campus interviewed with faculty, staff and administrators, and also gave a master class in acting for students."
Sanderson graduated from New York University with a Bachelor's of Fine Arts in theatre and from the Yale School of Drama with an Master's of Fine Arts in directing. He started his own professional theater company, Gorilla Repertory Theater Company in New York City.
There he received positive reviews from the New York Times and said he was "taken much too seriously." He went on to write a book about the company.
"It was published by a much more august publisher than I think I'm worth," Sanderson said.
When he was 40 years old, Sanderson joined the Navy Reserve and was deployed for a year.
"My dirty little secret is that I write musicals on the side," Sanderson said. He wrote one of these musicals, set in the Navy Reserve, while he was deployed.
"They just couldn't drill the theater out of me," Sanderson said.
During that year, Sanderson taught theater classes overseas.
"I think I'm the only person living and breathing who has a Navy and Marine Corps achievement medal for lecturing in theater," Sanderson said. "Apparently, without me even thinking about it or trying to, I actually helped the relationship with the local people by reaching out and talking about American theatre."
Now, nearly a decade later, Sanderson is getting settled in Oswego.
"I came here because of the people," he said.
Sanderson said the aspirations and professionalism of his colleagues have been inspiring.
"It's all been one big happy blur of joy, delight, wonderment," Sanderson said.
Sanderson's wife has family across upstate New York and they have been enjoying spending their free time hiking outdoors.
Sanderson has also already connected with some of his students. He brought a group of them to New York City when he was going for a business trip.
"I'm blessed to have the plenty to offer to students," he said. "They have been an absolute joy and a total revelation."
One of his students, Alexandra Matsu, said Sanderson brings a faster pace than she is used to as her professor and director.
"Most directors in the department spend a lot of time in warm ups and crew bonding, which is really a great way to go, but Christopher started the show diving right in at a much faster pace," said Matsu, a sophomore theater major.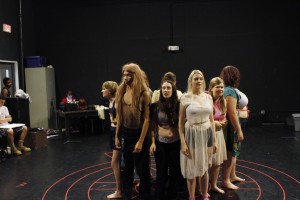 Matsu also said she has been challenged by Sanderson's high expectations.
"He expects elite professionalism from all of his actors," Matsu said. "I like what it brings out in us, and I'm definitely learning a lesson in what professional acting would be like."
Nicholas Cocks, a junior theatre and philosophy major, said he quickly adjusted to Sanderson's directing style. Cocks is playing the role of Dionysus in the upcoming performance "The Bacchae," which Sanderson is directing.
"As I worked more and more with Christopher, I grew to really appreciate him," Cocks said. "He's really pragmatic and he has super high expectations, which is really great for somebody who wants to improve really quickly."
Sanderson says he knows he comes across as "intense, passionate, with lots of ideas." He said his direction of "The Bacchae" exemplifies his teaching philosophy.
"You as students are adults, and as students of art you are artists," Sanderson said. "So the right way to respect yourself is to behave as an artist and to make high quality art."
Hester is the production dramaturg for The Bacchae.
"[Sanderson] is enthusiastic about his ideas and has the ability to nurture the same kind of enthusiasm in the actors and members of the production team," Hester said. "That's a critical skill for a director to possess."
"The Bacchae," originally written by Euripides, was updated by playwright Matthew Gasda for Oswego State.
"We don't need to use the same old dusty translation of 'The Bacchae,'" Sanderson said. "American theater now has a wonderful new script of 'The Bacchae' that's relevant and current and brilliant, because of us."
Sanderson said the production is a "hybrid world" of relevant and ancient. "It's an ancient Thebes of the mind, if you will," Sanderson said.
Cocks said some of the design concepts in "The Bacchae" are ones he has never seen before.
"I don't want to spoil too much, but there's blood and there's glitter," Cocks said.
"The Bacchae" will be performed Oct. 22 to Oct. 24 and Oct. 29 to 31. Sanderson invited a local high school to watch a run through and offered to hold rehearsals in a nursing home. He said he wants the actors to be exposed to an audience as they rehearse.
"Theater is not a building," Sanderson said. "It's a ritual."