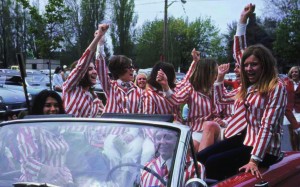 After over 40 years, the Oswego State Alumni Association will return the homecoming tradition to campus on Nov. 14.
"I am excited to be coordinating the reestablishment of our Homecoming program which will build traditions amongst the SUNY Oswego community, while helping to bridge connections between our current students, faculty and staff and our alumni and community members," said Laura Kelley, SUNY Oswego Director of Alumni Relations.
As spirited activities kick-off in the Marano Campus Center, hundreds of Oswego State alumni are expected to attend the day-long festivities.
"We are hoping that this event will engage many of our Graduates Of the Last Decade (GOLD) alumni and athletic alumni," Kelley said.
In hopes of improving alumni-student relations, Kelley explained that the program will establish networking possibilities for undergraduate students during the GOLD scholarship breakfast.
President of the GOLD Leadership Council and alumnus of 2010, Austin Byrd, explained that the activities will create unity between current and past students.
"The reunion is fun but it's over the summer when the campus is dead," Byrd said. "There is something special [about] coming back to campus when it's alive with students."
In providing events for both alumni and students of the college community, the Alumni Association will host the Oswego men's alumni ice hockey game at 10:45 a.m., the Athletic Hall of Fame Induction Luncheon at 12:30 p.m. musical performances at 4:30 p.m. and will conclude with a evening after party, and bonfire at 9 p.m.
At 3 p.m. the women's ice hockey team is scheduled to play Utica College. In Laker Hall, the women's basketball team will face Clarkson University at 4 p.m.
During the homecoming tailgate at 5:30 p.m., a variety of snacks, T-shirts, and Oswego State memorabilia will be available for purchase at the Activity Court in the Marano Campus Center.
A crowd of green and gold T-shirts will be cheering in Marano Campus Arena at 7 p.m. as the Oswego State hockey team makes its first play against SUNY Potsdam.
Over four decades ago during the first homecoming, sorority sisters wore red and white striped jackets and drove a 1960's cruiser with a balloon float tied to the back. The festivities helped to foster collegiate pride and community.
Now in 2015, the tradition will utilize social media. According to Kelley, Twitter will be a useful tool in navigating this year's event.
"We plan to use a lot of e-mail and social media marketing for the activities surrounding homecoming, which will help alumni who can't physically make it to campus still feel engaged and part of the event," Kelley said.
Freshman and Oswego State track and field member, Dylan Volk, is looking forward to this year's homecoming.
"Wow, that's legendary," Volk said. "I think it's really cool…It's been since the 1960's and it sounds like a good way for students to meet, especially athletes."
Other students agree that homecoming is a highly anticipated event.
"Culturally, this [can] make Oswego become more alive," freshman Erfan Himel said.
However, sophomore Cynthia Fernandez was unaware of the activities. This will be her first homecoming experience.
"Well, I didn't know it existed," Fernandez said. "What do people usually do at a homecoming? I've never been to one, never seen one. I think it will be interesting if it is open to everyone."
According to Student Association President Christopher Collins-McNiel, SA is not associated with the organizing of the homecoming event. He explained that the program is beneficial to the campus.
"Homecoming is a collegiate staple around the country," Collins-McNiel said. "It encourages a level of school spirit. SUNY Oswego is actively working to reinvigorate students and the larger Oswego community."
Next week, registration and pricing information for homecoming will be available to Oswego students and staff.