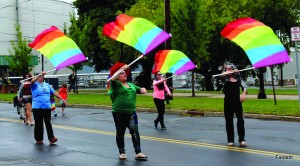 Last weekend over a hundred Oswego county residents twirled rainbow flags in the air as they marched to celebrate the city's second annual pride festival.
"In a town that's more conservative it's important we have a festival," said senior and Oswego State Pride Alliance President Juanita Diaz. "[It] is showing that there are people that are accepting to being cool to everyone."
Senior and Pride Alliance member Corrine Bottelsen agreed that having the parade and festival shows Oswego's acceptance.
"Everybody knows [they] have a place to be who they are," said Bottelsen.
The parade started on the corner of Lake Ontario Street and ended in the parking lot of the Railroad Museum on 56 W. 1st St. Rainbow painted faces and Oswego pride parade T-shirts covered the crowd that marched to the Veterans stage at West Linear Park on 138 W. 1st. St.
"Even though there are a lot of issues facing everybody, this is one day where you come and just relax," Bottelsen said.
Following the pastoral blessing of the festival, the Flower City Pride Band of Rochester, N.Y. stomped out in the rain to play a rendition of the 1970's retro classic "Star Wars," B 52's "Love Shack," and the Jackson 5's 1970's hit, "I Want You Back."
A kid-friendly drag show full of animated characters preceded the band. Drag queens and kings from Oswego to Syracuse were lip syncing to the Broadway hits like, "Mamma Mia," "Party-Rock" and "Pride" by Cher.
The drag queens wore dresses, body suits and danced in 5-inch heels with faces made up in bright lipstick and eye shadow. One impersonator dressed as Cher, wearing an extra-large Native-American headdress on her head.
More than 30 vendors and nonprofit organizations lined up against the Lake Oswego railroad bridge. North of the stage, youngsters could play with games, get their face painted, make arts and crafts or hop in the bounce house.
"It brings people together to get them talking," Diaz said. "A lot of people here are business owners so they know which owners are willing to help with things like this."
Oswego State senior James Brooks explained the festival is pertinent in spreading awareness about the pride community.
"LGBT communities are everywhere," Brooks said. "It is a community that is fairly growing throughout the world. There's a lot bullying that goes on in the LGBT community…this is to educate people."
Brooks came out to his aunt about his sexual orientation when he was 14-years-old.
"It was tough," Brooks said. "My family didn't really understand my whole process. I was a cutter. Me coming out was my aunt telling me to stop cutting and saying 'Oh I know you're gay by the way.'"
Brooks explained increased "mainstream" content would help inform the public about LGBT issues.
The Oswego County Pride Committee, a social advocacy group, organized the event. The program was sponsored by several local affiliates such as Oswego County Opportunities, Queens for a Cause, Rick Pepper, the Coffee Connection and Lakeside Winter Guard.
President of Central New York Pride, Jayme Martin, explained the parade helps expand the visibility of issues affecting LGBT adults and youth.
"It's important for us to celebrate who we are, but there is still work for us to do." Martin said. "We are not done yet. We need to continue our work for our transgender people and others members who are struggling in their daily life."
Since the fall of 2014, the Oswego County Pride committee has organized yearly festivals.