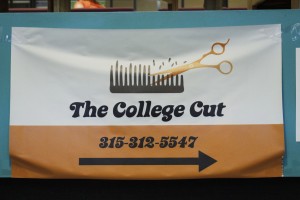 Oswego State's Student Association has just hired a new barber to work at College Cuts, the salon in the basement of Hewitt Union.
Erik Velez, a Bronx native who now lives and works in Liverpool, New York, started at the salon on Wednesday.
"It was awesome," Velez said. "A lot of people came out. I've been pretty busy all day."
He got the job through a friend who recommended him to the college.
Velez has completed the necessary two years of apprenticeship required to be a barber and will be getting his masters in just a few weeks. He has been working in Liverpool for three years.
"It's something I've always done, always had a passion for," Velez said. "It's more of something that I love to do than a job."
The college is planning on giving Velez his own barber shop in Hewitt, separate from the brightly painted walls of College Cuts salon.
"As far as I know, it's going to be more of an urban setting, just for the college kids that are here that need haircuts and can't find anybody to do it," he said.
The salon is currently staffed by lone hairdresser Amanda Kaine, who has been working at College Cuts for six years.
Many students, faculty and staff chose to go to College Cuts because of its convenient location.
"I didn't have a car my first year and desperately needed a haircut," sophomore Brian Greene said. "I heard about College Cuts and thought it was just a salon for women. After I heard that they cut men's hair as well, I thought I'd give them a shot."
Greene said he was very pleased with the haircut he received from Kaine and continues to go back.
Auxiliary Services staff member and class of 2012 alumnus Steven Baker has been going to the on-campus salon since Kaine started working there.
"Amanda is a great person to sit and chat with," Baker said. "She does a great cut for me. And it's convenient. I'm on campus and it's a great place to visit and get a (hair) cut."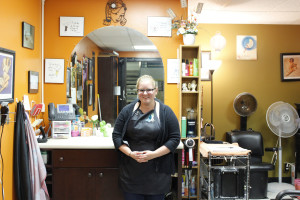 Kaine averages between eight and 20 customers a day.
"Guys need haircuts more often than girls and girls think they can go longer in between haircuts," Kaine said. "Mainly my clientele is guys. I'd say it's about 75 percent guys."
College Cuts is a full-service salon. In addition to men and women's haircuts, which cost $12 and $14, respectively, Kaine offers coloring, waxing and other services. The salon is open to the community, but Kaine rarely gets off-campus clients.
"I would definitely recommend College Cuts to anyone who wants a decent haircut but doesn't want to drive to town to get one," Greene said. "It's much easier to get to and the results are just as good."
College Cuts is open Monday through Friday, from 10 a.m. to 4 p.m. on Mondays and Tuesdays and from 10 a.m. to 5 p.m. on Thursdays and Fridays. Wednesdays, the only days Velez is working are "barber days," and the shop is open from 11 a.m. to 6:30 p.m. Call (315)312-5547 to schedule an appointment with either Velez or Kaine.