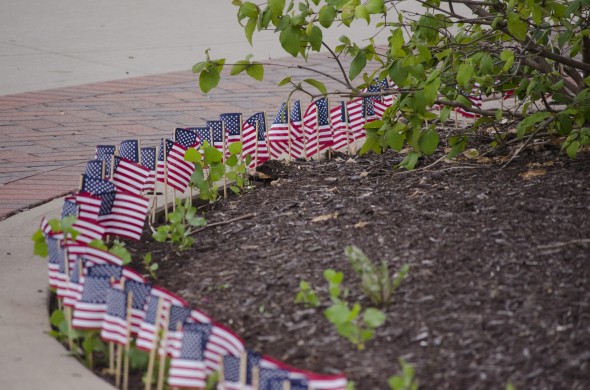 Members of the Republican Club and students walking by began placing handfuls of flags along sidewalks in front of the Campus Center in memory of who died on Sept. 11, 2001.Thursday night, the Republican Club began their tradition of placing American flags on campus. They also placed a few near the Free Easy & Forever Memorial site located between Tyler and Seneca halls.
"It's honestly one of the best feelings to know that people can just come together and make such an amazing tribute," said Republican Club President Kelly Dineen.
It was at the Republican Club annual flag display that students and faculty recalled their own memories of this historic day.
Freshman Sean Clerici was taken a back by how much of that day he doesn't really remember.
"I don't remember much except being in kindergarten and the teachers running around frantically as they tried to keep the students calm," Clerici said. "I didn't really know what was going on."
On Sept. 11, 2001 the United States felt both shock and pain as they watched the first and second planes strike the North and South Towers of the World Trade Center. Later on news came that the Pentagon had also been hit and United Airlines Flight 93 had been taken over by a terrorist and crashed in a rural field in Pennsylvania. This was the deadliest terror attack to occur on American soil.
Senior Sonia Agokeng remembers being in third grade and having her mom come get her from school. She did not know what was going on until she finally got home and watched CNN replay the footage of the towers being hit.
"I was scared, but at the same time, I had this childhood ignorance and so I did not understand as much as what was being told to my siblings," Agokeng said.
University Police Officer Matthew Barbeau saw the events that occurred that day in a different light.
"Like most everyone else, I was angry," Barbeau said.
This was an emotion that some Americans felt as they struggled with the shock and disbelief of being attacked. It was this same emotion that President Bush used to rally the nation as he gave his speech at Ground Zero.
"I can hear you!" Bush said in his speech. "I can hear you! The rest of the world hears you! And the people and the people who knocked these buildings down will hear all of us soon!"
These famous words added both comfort and vigor to those across the nation.
9/11 has become a significant day in Oswego State's history. It was on that day that the Oswego community lost 12 alumni.
Tim Barnhart, who was an Oswego State student at the time and 2001 Student Association President, had gone home to visit family on the day of the attacks. He was called back to school by the president's office shortly after arriving home. While thoughts of fear and disbelief ran through his mind, he sat with head officials of the college to decide what to tell students and how to handle the events as they unfolded.
Later that night, Barnhart would lead a vigil on campus. At that time, he questioned whether people would show up to the vigil and if they did, what it would be like. However, the vigil brought the community together, Barnhart said.
The next year he came back, along with the classes of 2002, 2003, 2004 and 2005 to dedicate a memorial near Glimmerglass Lagoon to the 12 alumni who died. The memorial site is there, not only as a remembrance to the 12 alumni, but it serves as a reminder of how much our country has changed and been united because of such a horrific event, Barnhart said.
Every year the Republican Club places flags throughout campus as their own remembrance for those who died that day. The Alumni Office will also be honoring the 12 alumni with their own online tribute.
Friday night, the Republican Club, along with SAVAC, will join together to pay tribute to the 12 alumni that died in the towers. The Alumni Office will also be honoring them with their own tribute.
These tributes have helped people who are still grieving and those who don't quite understand the events that took place that day.
"Life would never be the same if we lived it before 9/11," said Barnhart. "We will always remember this. You will not forget because it is something the country can't forget."