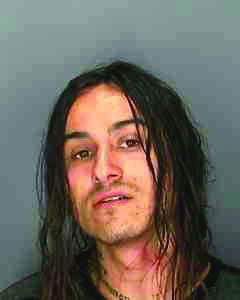 Three University police officers were physically assaulted while investigating a suspicious person near Waterbury Hall on Friday, Sept. 4.
Joshua Patterson, 24 of 104 W. Cayuga St. was arrested and charged with 15 counts, including one count of disorderly conduct in the first degree, 10 counts of harassment in the second degree, one count of resisting arrest in the first degree, one count of assault in the third degree, one count of obstructing governmental administration in the first degree and one count of false personation in the first degree.
University Police got a call from Waterbury Hall about a suspicious person in the area at 11:07 p.m. Patterson was seen placing a backpack in front of the main entrance of Waterbury Hall and proceeding to run away, "muttering inaudible words and walking in a strange way," according to University Police Chief John Rossi.
"He dropped [the backpack] and ran away really fast," Rossi said. "Other people said he was talking in an incoherent manner and then our officers found him down on Rudolph Road between Riggs and Johnson Hall."
Officer Thomas Marrone was the first to respond and was able to identify Patterson from the provided description. Once Marrone asked Patterson for his name and ID, he refused, giving the officer a false name. The officer recognized Patterson from other encounters and knew he was not telling the truth. He refused to provide any type of ID.
"You have to be able to provide ID to any college official when you are on a state university campus," Rossi said.
Patterson still refused to comply when Lt. Mark Dermody and Officer David Wooden arrived on the scene. After the officers informed Patterson that he could be arrested for false personation if he refused to give his real name and present his ID, Patterson continued to give a false name but did reveal that he was not a student.
Rossi was unable to comment on his past or present academic records.
Patterson gave the officers permission to look through his bag for an ID but the officers did not find anything. According to Rossi, while the officers were looking through his bag, Patterson became "very irate" and starting yelling obscenities to the officers. Patterson then began to raise his hands towards one of the officers.
Due to his lack of compliance, the officers decided to arrest Patterson for the false personation charge. Patterson struggled in the arrest, threatening the officers' lives, spitting, threatening to cut them and kicking at the officers. As they were trying to get him into handcuffs, he was still was not compliant and the officers had to use pepper spray on him but he continued to struggle.
Once he was put in the back of the University Police car, Patterson used his legs to try and kick out the window. University Police officers had to restrain his legs. When Dermody tried to restrain his legs, Patterson kicked him in the face resulting in minor injuries to Dermody leaving a cut on the inside of his cheek.
He was then brought down to the University Police station, where he complained that he was injured. University Police immediately called SAVAC ambulance service to treat Patterson and Dermody.
According to Rossi, after SAVAC arrived, Patterson became "extremely hostile," refusing to listen to SAVAC's directions and started to spit on one of the members of SAVAC.
He was brought to the emergency room at 12:26 a.m. and immediately refused treatment. He was verbally disrespectful toward all hospital staff and continued to threaten University Police officers, SAVAC members and hospital staff. According to Rossi, since Patterson was not operating a vehicle and no serious physical injury or death was involved in the incident, there was no allowance for a toxicology test to see if there were any substances involved in Patterson's agitated behavior. They do not know what might have been the cause for it.
He returned back to the police station at 1:04 a.m., where he was processed and arraigned in the Town of Oswego court in front of Judge Donald Dodd. Patterson remains at the Oswego County jail on $20,000 bail.
Patterson's interactions were caught on video in the booking room at the University Police Station as well as the exterior camera of Riggs Hall.
"The officers handled it in a textbook fashion, the way they were trained," Rossi said. "They used tremendous restraint because he was just agitated and continued to threaten their lives, their family's lives. They used the exact amount of force that they needed to bring him into custody and he was not injured during the struggle."