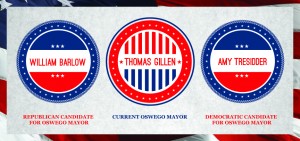 Oswego County legislator Amy Tresidder will contend with Republican opponent William Barlow, in a public debate this fall.
Tresidder, a mother of five and county resident for over 30 years, will serve as Oswego's first female Democratic candidate. She hopes to extinguish economic inequities throughout the city.
In partnership with the Shineman Foundation, PathFinder Bank and Novelis, according to the Oswego Renaissance Association (ORA) website, the program provides multi-year assistance to revitalize disadvantaged neighborhoods.
"It is difficult to say there is one specific thing to solve poverty in a city like Oswego where it is such a huge problem," Tresidder said. "One of the clear things happening now is the Oswego Renaissance Association, where block grants are given to homes to be improved."
As her campaign moves forward, Tressider wants to expand this program across the college community. In an immediate infrastructure overhaul, college rentals would also be included in the city's run-down of redesigned homes.
"I would love to see our college rentals also improved so that our students who want to rent in our city feel valued also," Tresidder said. "They are not expected to live in sub-quality apartments and houses."
The debate, which will be held in a local facility, has yet to be announced to residents. However, voters  are allowed to sit in on the critical discussion with the candidates.
According to Tresidder, ongoing problems of poverty, low-technological advancements, high property taxes and deficient emergency aid left the city with an uncertain revival for years.
"We need to make the city's government better overall," Tresidder said. "We are behind in technology; we need to streamline the process for our small businesses. We can't improve our city until we improve city hall."
Tresidder's opponent, 24-year-old Arizona State Graduate Barlow approaches the city's disparities with a tenured spirit of enthusiasm. Next week, he will be greeting taxpayers at the Oswego Tea Company on 157 East First Street. Residents can catch a coffee break with the candidate while he advocates for the prosperity of the town.
Barlow is a door-to-door candidate, and according to posts on his mayoral Facebook page, he enjoys serving the community at large. Whether it be scoping out young entrepreneurs at a children's lemonade stand or tending to his small food business, 'Barlow Concession,' he is visible throughout the city.
"I see how vital SUNY's presence is in Oswego and how important it is capitalize on what they bring," Barlow said. "Making sure we are a community that looks into the future and offers students something to do and provide a comfortable space for them to live and go to school."
According to Barlow, Oswego State contributes to 60 percent of the county's overall economy. As a spearhead for business and fiscal development, he is motivated to make the city more college-friendly.
"We want to try and attract good paying jobs that provide a living wage," Barlow said.
Barlow hopes to integrate off-campus students with the services of the downtown community.
"College students want to see a livable, walkable downtown," Barlow said. "Younger professionals want to live near their friends, [and] the coffee shop. They want to be close to the amenities downtown has to offer. You can have an apartment and be with your friends right in the middle of downtown."
Mayor Thomas Gillen will return to the roster this election season. Enforcing tax cuts to the working class and technological upgrades for the county are the campaign's focuses.
The Mayoral election will be held on November 3, when taxpayers will have an opportunity to decide between Barlow, Tresidder and current mayor Gillen.