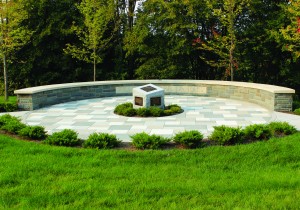 As students settle into their first couple weeks on campus, a new sight has become of interest to wandering eyes. Between Seneca and Tyler Halls stands a newly built memorial site. The "Free and Easy Forever" Memorial is a meaningful tribute to four alumni who have died.
The memorial is a dedication to Richard Caproni '89 and Michael Hannan '89, who were killed while working in the North tower of the World Trade Center on Sept. 11, 2001. It also serves as a remembrance of Lynne Harturian '89 and Colleen Brunner '90, who were both killed on Pan Am Flight 103 after it exploded over Lockerbie, Scotland on Dec. 21, 1989.
The memorial was built to remember and honor these four alumnus who are described as being full of life and who represented the Oswego State motto "With Passion and Purpose."
According to the Associate Vice President of Alumni Relations and Stewardship Besty Oberst, as the classes of '89 and '90 began fundraising for the memorial site, Oswego State President Deborah Stanley made it a point to stand by the decisions of the alumni donors and committee members. President Stanley wanted this site to stand as a "lasting tribute to the beloved alumni and as an example of the lifelong and lasting friendships that take hold here at SUNY Oswego."
The committee for the site was started by Jim Grismer '89, Karen Colucci Coia '89, Michael Gay '89 and Michael Costello '89. In 2013, the committee came up with the idea to build a memorial for their friends and sought to raise $75,000 by Oct. 1, 2014, so the site could be revealed by the June 2015 class reunion. They exceeded their goal and even had the families of the four alumnus attend the unveiling. The site was unveiled before faculty of Oswego State along with friends and family of the students during reunion weekend this past summer.
The memorial site surrounds the existing Hannan and Caproni memorial tree located between Seneca and Tyler Hall. This area was chosen for both the memorial tree and new "Free and Easy Forever" Memorial site because Hannan and Caproni both lived in Seneca Hall.
The name of the memorial, "Free and Easy Forever," stands with its own meaning. The name is a reference to Hannan's favorite song, "Wooden Ships" by Crosby, Stills and Nash. The song, even though it was written during the Vietnam Era, remained popular during the 1980s.
These students, who are honored at every class reunion, will now be honored by the entire campus. The memorial stands to set aside conflict and create lasting peace within the community and the world around us.
One of the plaques at the site reads, "May this memorial offer comfort, strength, peace and serenity to the family and friends of Colleen, Lynne, Mike and Rich. Let the spirit of their lives inspire you to live, laugh and enjoy each moment in life."