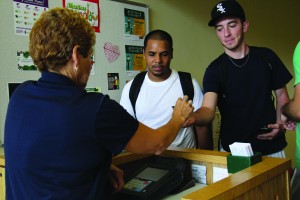 After the arduous morning and afternoon brimming with classes. it's always good to unwind with a late evening snack. For Oswego State students that may not have been able to eat dinner,Littlepage is offering extended late night hours for the hungry masses on Fridays and Saturdays for the first time in over a year.
Opening this school year, Littlepage dining staff have been working to prepare meals from early in the morning at 7 a.m. to late in the evening until 11 a.m. for all Oswego State students who have a meal plan.
Recent changes to the Littlepage Dining Hall have been made to accommodate students during the weekend late night hours, 8:30 p.m. to 11 p.m., with everything normally available during the week day late night hours, from steaming entrées to freshly cut fruit.
"I'm enjoying it so far, everyone here has been really relaxed and nice," said Frank Bonnot, the new late night dining manager.
There have been concerns from previous years of students coming in intoxicated during late night dining hours, so far there have not been any reports of this happening with the new schedule.
Students snacking at the Littlepage Dining Hall on Saturday night were not hesitant to give their point of view on the change in dining hall hours.
"For my first time I would say it's not that bad. The food was kind of cold and they were a little late, but that is understandable because they have just started," said Jeneish Reuban, a sophomore.
Ashalet Chrisholm, a sophomore, was satisfied with the dining hall's availability. "It is pretty convenient, I usually feel hungry around 9 and this is a great option."
Overall, Oswego State students have given largely positive feedback on the new dining hours.
"I personally like having the opportunity to get a decent meal with my friends later in the evening," said freshman Gustavo Tejada. "Sometimes I am too busy and miss the regular dining hours but having the option to eat later in the day is great."
Now students are able to go to Littlepage and get a full meal every Monday through Sunday from 8 p.m. to 11 p.m. as a result of the new late night dining hours.
For comments and concerns, Auxiliary Services encourages all students to fill out comment cards in their respective dining halls.