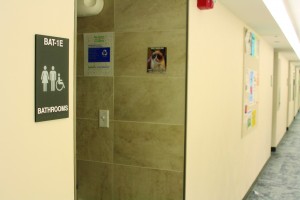 When renovations for Waterbury Hall were announced last fall, individualized bathrooms were an amenity of the future. Now, students are acquainted with the renovated design.
"I haven't heard any complaints about the bathrooms, it's all been very positive," Richard Kolenda, the Assistant Vice President of Resident Life and Housing. "People love the privacy, instead of having a gang bathroom with multiple people using open sinks and toilets."
The $8.8 million project promotes inclusion among non-binary students and includes a sink, toilet, mirror and shower within an enclosed room. This allows students to perform personal tasks without the intrusion of other residents.
According to the College Equality Index, an LGBT campus database, 18 universities in the U.S. have adopted bathrooms, which cater to both genders. As the trend quickly spreads across the country, Oswego State is one of the several colleges to implement an all-inclusive facility.
Allison Anthony a junior desk attendant in Waterbury Hall, explained that the bathrooms are very "clean" and that she is impressed with the modern redesign.
"I really like them," Anthony said. "They are homey, very high-tech. It is something unique to this building. There's a lot of talk with gender being in a spectrum, this is a first step toward having equality and not putting someone in a box."
Unlike communal restrooms that are barred with a stall door, a sink clogged with hair, or a white, plastic shower curtain, each bathroom has ceramic tile on the walls, extra racks for towels and a black-checkered floor with drainage.
The four wooden doors that lead to the individual bathrooms are equipped with a sign that can be switched from 'vacant' to 'occupied.' However, sophomore Kimberly Smith explained students adjusting to private restrooms occasionally leave the bathroom doors unlocked.
"I felt really weird about it at first cause it's a private thing," Smith said." Some people don't remember to lock the doors. I walked in on two people in the process of getting changed for the shower or going to the bathroom. It's really awkward."
While, the chic-and-innovative style resembles a mid-tier hotel, students complained that a lack of stalls causes an influx in waiting time for residents during the morning. In a mid-size community of 200 students, restroom availability has become an issue within the first two weeks of class.
"When our bathrooms are closed, both boys and the girls flock to the other side of the hall to try and use that bathroom," said sophomore Cayla Turner, pointing to restrooms in the far left wing on the third floor of Waterbury Hall. "It gets super crowded really fast."
Turner is not the only student who feels this way. On Monday, Smith explained, a line formed outside of the private stalls at 8:15 a.m. forcing her to rush to a 9 a.m. chemistry course in the Shineman Science Center.
Despite an increase in bathroom occupants of all genders, reports of sexual harassment are nonexistent, according to Kolenda.
"Why would this harbor more sexual assault?" Kolenda asked. "I don't understand why that would be an issue. Sexual assault can occur anywhere. It's a bathroom just like it is in your own home."
According to ResLife, sexual activity is banned in the private restrooms. Sophomore Stephanie Skinner explained the resident assistants stressed a one person per bathroom limit. Forgoing these restrictions will result in immediate administrative action.
Upon community approval of Waterbury's new design, next Fall, ResLife will expand renovations to Scales Hall.