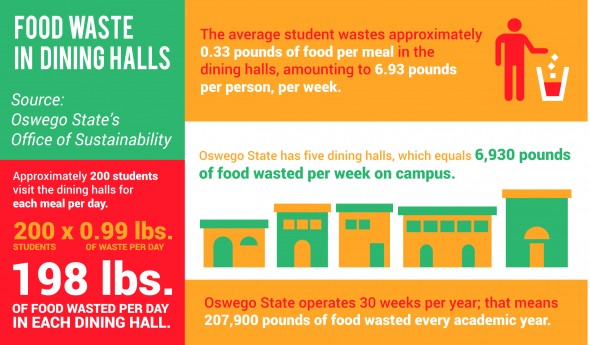 Readily available food in dining halls comes with being a student at Oswego State, but this service comes at a price to the environment when students waste the food they do not consume.
According to the Oswego State Office of Sustainability, the average Oswego State student wastes approximately 0.99 pounds of food per day at three meals a day in the dining hall.
Peterly Jean Baptiste, freshman and Office of Sustainability intern, said that this semester, the Office of Sustainability, with the help of Dining Hall Services, measured the amount of students' food and paper waste in the west campus dining halls this semester.
"If we take that number into consideration and try to reduce that, we might make an impact somewhere else by reducing the amount of waste in general," Baptiste said.
Baptiste is among other student interns that promote sustainability and an eco-friendly environment on campus. The amount of waste in the dining halls was first measured in the spring 2014 semester in Cooper Dining Hall, a project headed by juniors Nick Ransburg and Irene Putzig,
"I believe an individual should care about the amount of waste they produce because it begins to really add up when everyone is throwing items out," said Ransburg, intern and Office of Sustainability marketing coordinator. "This cumulative waste is hard to dispose of and can be harmful to our environment."
After collecting data from Cooper Dinning Hall, the department collected food waste from Littlepage and Pathfinder dining halls this semester. As a part of their research, they would place only two garbage cans labeled "food" and "paper" in the dining halls. Once the trash bag was just full enough to still lift, they would take it to the scale and weigh it for data.
According to Baptiste, Pathfinder Dining Hall accumulated 66.2 pounds of paper waste and 181 pounds of food waste during one 4:30 p.m. to 7 p.m. dinner session. In Littlepage Dining Hall, the numbers totaled to 26 pounds of paper waste and 91 pounds of food waste for one dinner session.
This data allowed the Office of Sustainability to approximate the amount of food waste throughout the whole campus. With five dining hall centers and about 200 students visiting each dining hall every day, the amount of food wasted on campus by students in a week amounts to about 6,930 pounds. With the campus fully operating 30 weeks per year, the food waste totals to approximately 207,900 pounds every academic year.
"The Sustainability Office is very vocal about our findings," Baptiste said. "We want to not only tell people about these numbers but have them see exactly what that amount means and to make them think, 'Wow, I waste this much food.'"
The data collected in the dining halls this semester was a part of many student-run recycling campaigns from the Office of Sustainability. Oswego State recently won one of eight honors nationally in the first-ever competition sponsored by the sustainability organization RecycleMania.
The Department of Residential Dining is aware of the amount of waste students produce. In order to control these numbers, dining halls across campus emphasize providing students with a choice of standard portion sizes which correlate to the nutritional facts on the website.
"What we are trying to do is right size our portions but not take away from the customer service aspect," said Craig Traub, director of resident dining. "If the customer wants more we will give it to them."
Traub makes it clear that the dining hall service cannot control the amount of food students waste but uses portion sizes to provide students with an option to take what they know they can consume, which in turn helps students reduce the waste.
The amount of food dining hall services wastes was not measured in the data the Office of Sustainability collected.
Although Traub admits that wasting food is part of any restaurant business, the dining halls usually produce leftovers from the previous day if it is still considered quality food. On extended breaks the dining hall works with the local Salvation Army to reduce the amount of their food waste.
But in terms of waste, the dining hall directs their attention on eco-friendly practices other than edibles: water.
According to Traub, dining hall services' dish washing machines use 235 gallons of water as well as 100 kilowatts of energy. When the dishes are improperly stacked to about a 20 percent efficiency, the machine uses all of its water and energy to wash less dishes compared to if it was 100 percent stacked efficiently. When stacked to its 18,000 dish capacity and used 100 percent effectively, the machine only uses 59 gallons and 25 kilowatts with a 75 percent reduction of energy. Oswego State dining halls usually operate their machines at a 70 percent efficiency rate.
"We are saving hundreds of gallons of water a day and it is proven to be sustainable," Traub said.
The Office of Sustainability, similar to dining hall services encourages students to start with smaller portions and ultimately reduce the amount of food waste now so they will use the same practices for a more sustainable future.
"It is essential to educate [students] on sustainability now, as these students are beginning to develop their independent life habits in college," Ransbury said. "We can hope these students will be able to incorporate sustainable habits now, and continue them throughout their lives."