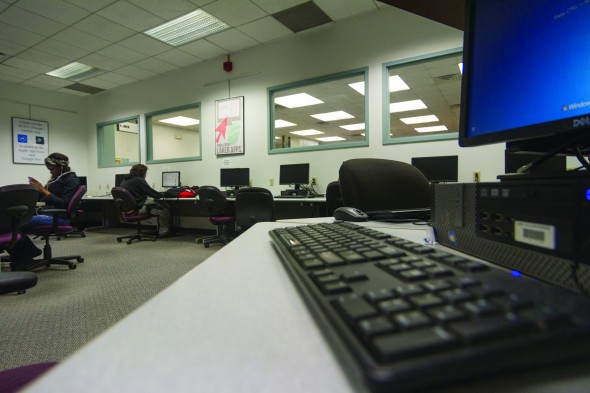 With finals week approaching, students are beginning to feel the end of the semester crunch. Penfield Library on Oswego State's campus is opening the computer lab as another 24-hour room starting May 3.
Barbara Shaffer, Penfield Library's director, took into consideration suggestions from students over the past few years of expanding the 24-hour room space and found it to be in a great need.
"It seemed that adding computer availability as well as more space was ideal, so we approached Campus Technology Services who oversee the lab and began a discussion about this possibility," Shaffer said.
In the 2014 fall semester, this idea was tested and, according to Shaffer, was well received by students. With the computer lab remaining open, more computers and space will be available to students.
"The availability of two spaces also allows us to offer both quiet and group study spaces, which was not possible in the past," Shaffer said. "We ask that students using the computer lab work quietly and those studying with their classmates use the 24-hour room."
According to Shaffer, the beginning of the 24-hour room expansion will begin Sunday, May 3 at 10:00 a.m. and will run until Friday, May 15 at 4:30 p.m.
"During this time, the 24-hour room and library computer lab will remain open all day and all night," Shaffer said. "For those same dates, we also have extended hours for the whole library, which include early weekend openings and staying open until midnight Sunday through Thursday."
Students seem to appreciate Penfield Library's effort to accommodate their needs during this stressful time of the semester. Senior Melissa McGowan feels this opportunity will not go to waste.
"I think that this is an extremely beneficial opportunity that students get now," McGowan said. "I think it will really help out with the crowding in the 24-hour room during stressful times of the year. I know that many times at the end of the semester people go to the 24-hour room and there are no spots left, so this will allow more people to use the library."
Sophomore Missy Bent feels this extended space and time is something many students will appreciate and take advantage of.
"I think this is very beneficial because it gives more people access to computers and printers so no one is left waiting," Bent said. "I think this will help reduce stress in some students during a very strenuous time."
For security reasons, students will have to scan their student ID card to enter the library after closing.