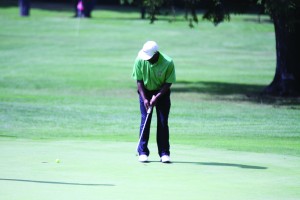 Coming off their second tournament win this spring, the Oswego State men's golf team will look to fare well at this weekend's ninth annual Laker Spring Invitational at the Oswego Country Club.
The Lakers have five top three finishes in the history of this event, with their only win coming in 2012. The only golfer that competed in that event and still plays for Oswego State is senior Kyle Brockmann, who will be part of a squad that includes juniors Dan North and Tyler Wurzer, senior Omari Howard and freshman Stuart Winn. They will represent the Lakers A-Team in the invitational.
North, who is also the captain of the team, will look to redeem himself from not being able to win the Lakers Fall Invitational last fall when he tied for second in the event. North had the opportunity to win until he missed a five-foot putt on the 17th hole for bogey. This will be North's last time competing in the spring invitational, as he will be graduating in December.
Howard and Wurzer have been playing well as of late, with Howard coming in second in the Laker's last event at Elmira College on Tuesday, leading Oswego State to a win overall. Wurzer came in first in Keuka College April 15, which also led to a Lakers victory. He proved that if the Lakers are going to pull out the victory, somebody from the team will need to place toward the top of the leaderboard.
Competing with the Lakers in the invitational is a group of solid teams that know the Lakers all too well, the most prominent being St. John Fisher, which is currently ranked No. 2 in the NCAA Mid-Atlantic Ranking. The Cardinals placed first in last year's event, and even won the fall ECACs where the Lakers placed third. However, St. John Fisher is only sending three individuals, which means they will not be competing for a chance to win the team competition.
Also competing are St. Lawrence University, Hobart College, SUNY Potsdam, SUNY Cobleskill, Utica College, SUNY Canton and Daemen College. St. Lawrence University placed second last year and is led by Jack Whelan, who won the event last year. SUNY Potsdam, SUNY Canton and Hobart all return from fall invitational, finishing second, sixth and eighth, respectively.
The Oswego Country Club will provide many risk and reward opportunities for everyone involved in the two-day tournament. Tee off is scheduled for 1 p.m. Saturday.