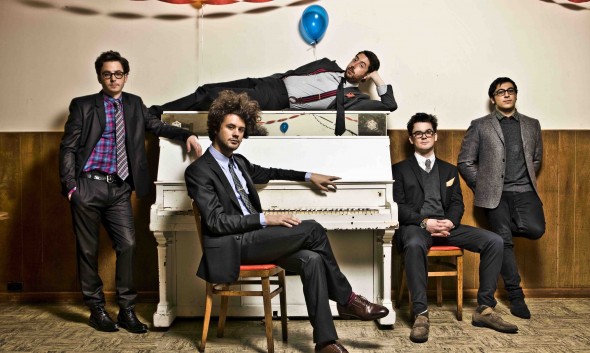 On their third studio album, indie-electronica band Passion Pit showcases a further advancement in their style through definitive tracks consisting of pop-infused hooks and looping beats. From Cambridge, Mass, the band has had reoccurring success with hits like "Sleepyhead" and "Take          A Walk."
With a strong international following, Passion Pit has become a well-known, long lasting force that is constantly in the back of pop music lovers' minds everywhere. With the release of "Kindred," Passion Pit reaffirms this long-                                                                   lasting attraction.
Consisting of a talented and evenly distributed 10 tracks, "Kindred" is perhaps the group's most entertainingly mainstream album to date. Fun and definitely summery, each moment of the record will prove inviting for a wide variety of audiences. With a highly futuristic sound, this beautiful piece is too youthful not         to enjoy.
"Lifted Up (1985)" is Passion Pit's furthest drive into the infectious pop genre. With terrific hooks and a number of catchy lyrics, this driving song maintains enough of a unique quality to maintain its whole quality. Without falling too deep into the rut that can be a senseless Top 40, the backings behind "Lifted Up (1985)" provide enough of a strong foundation to set up the album's themes. It is a lead single that matters.
On "Five Foot Ten (I)," Passion Pit perfectly captures an upbeat tempo that will excite radio fans and indie lovers alike. Combining synths and '80s-inspired beats, the swirling atmosphere created by "Five Foot Ten (I)" is interesting to say the least.
For relaxed listeners, the stripped-down and sleepy "Dancing on the Grave" is a track that will cause drifty casualness to take full form. Like the end of a party, this song, despite its middle placement on the track list, seems to cohesively cap off what is otherwise an energetic album.
If there is one track on "Kindred" that completely unleashes whatever "it" is, it's "Until We Can't (Let's Go)." Thoroughly electronic, this hyping, danceable song is perfectly placed to be a summer hit. With seemingly no regulation, "Until We Can't (Let's Go)" is anthemic and impressive. It is definitely one of the                 album's best.
With "All I Want," Passion Pit offers audiences a quirky beat and an enjoyable, chorus-driven melody. In relation to the rest of this album, this track can be easily passed over, but upon closer inspection, listeners will fall in love with this love song. Its sweet and pleasant vocals provided by lead singer Michael Angelakos is all listeners could ever want.
Overall, "Kindred" is Passion Pit's greatest release to date. Through engaging lyrics and superb constructions, each track off the record is as good as the one before it. Every moment of "Kindred" is a worthwhile experience for all. Catering to a variety of audiences, this album is a special piece of work.