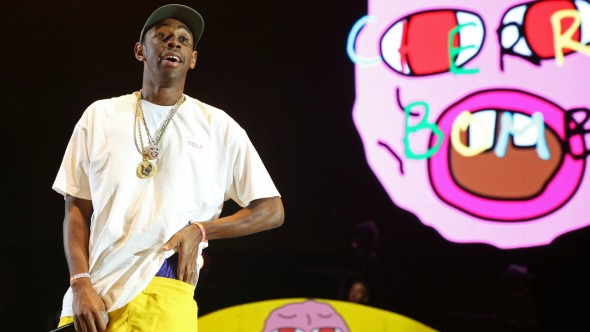 The divisive, yet undeniably talented enfant-terrible of hip-hop has followed up his ode to summer camp romance with a characteristically bombastic surprise release of his newest album                "Cherry Bomb."
Though some might decry some of his Twitter antics and lyrics as being unimaginably déclassé, immature and off-putting, no one can say that Tyler, The Creator isn't a modern day hip-hop auteur. He has his own clothing line for which he meticulously designs, he produced all of the tracks on "Cherry Bomb" and directed the delightfully colorful while simultaneously post-apocalyptic joint music video for the first two singles of "Cherry Bomb."
The videos for "F*cking Young" and "Deathcamp," packaged together on YouTube, serve as a model and a preview for the rest of the album, which is to say that, "Cherry Bomb" is a thoroughly divided album down the middle. This isn't much of a shock, as much of Tyler's music deals with the duality of beauty and pain, sublime love and an indescribable angst for life as well as growing up and somehow still being a kid hanging out in the cul-de-sacs of Ladera Heights, Calif.
There's a chaotic and cluttered nature to the sound of "Cherry Bomb" which really contrasts to the decompressed, laid back sound of his 2013 album "Wolf." That being said, "Cherry Bomb" might be his most sonically daring album to date. It still retains some of his trademark, brash horrorcore lyrics, but with some of the most divisive beat selections of his career. However, Tyler still managed to get the most features of any of his releases, boasting Kanye West and Lil Wayne on one track, and Schoolboy Q and the R&B renaissance men Pharrell Williams and Charlie Wilson throwing their hats into the ring.
It's no coincidence that Williams has a presence on the album, not just because he is a musical genius and innovator, but because in many ways "Cherry Bomb" might not exist without his body of work. Tyler and every other MC that he considers a peer have rightfully fawned over his seminal 2001 release with N.E.R.D. "In Search Of," and the production of "Cherry Bomb" at points feels like a spiritual successor to his work. The album's opener, the aforementioned "Deathcamp," sounds like a reworking of "Lapdance," while "Blowmyload" sounds like a horny teenage boy taking a riff on "Tape You."
Tyler seems to internalize a lot of the music production of his hip-hop progenitors, but what made "In Search Of" work isn't present on "Cherry Bomb." There are moments of unabashed beauty and grace on "F*cking Young" and "Smuckers," featuring two bonafide legends in Kanye West and Lil Wayne, but juxtaposing that against overblown teenage angst and poorly mixed noise for noise's sake hurts the album as a whole. "Find Your Wings," "Okaga, CA" and "2Seater" will fulfill listener's needs for a lighter, effervescent sound evocative of another Odd Future member Frank Ocean, but put these against pointlessly abrasive tracks like the title track "Cherry Bomb" or "Pilot" and the album seems to fall apart at the seams.
Is this album "Wolf"? No, and that's personally kind of a let down, but Tyler would have some choice words for people who share that opinion. It may come off as selfish or egotistical, but Tyler, The Creator has first and foremost unapologetically made the kind of music he wants to listen to. He's the one guy out there living his dream the way he wants to live it, bumping shoulders with the giants that inspired him and his earnest enthusiasm for music is entirely enviable. Where he chooses to go or if this is one more stop on his road to growing up, if he even should, remains                                    to be seen.