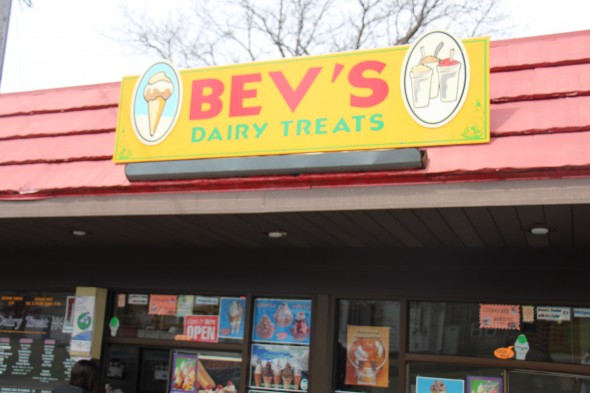 Chilly and windy. This is not how I expected my first "spring" adventure to Bev's to go. Distraught over the chilly temperatures, my five friends and I hopped in the car and drove up the road instead of the usual walk. Earlier in the day it was sunny and warm, but alas, classic Oswego weather struck again and became the reason we were unable to enjoy a relaxing walk to this popular local establishment. The drive over was nothing like the warm beginning of the fall semester walk that we took on one of the final 70 degree days of the summer season.
Once we acquired one of the last parking spots available, we got out to brace the wind and wait in what is always a long line. Surrounding us were the hungriest of customers; at least that's what it seemed like with everyone standing so close together and moving immediately forward when someone got their order taken care of.
On the warmest and most pleasant nights, crowds flock to this Oswego ice cream staple with smiles on their faces and their favorite treat already picked out. Students specifically enjoy nothing more than returning from class and looking forward to ice cream later in the day.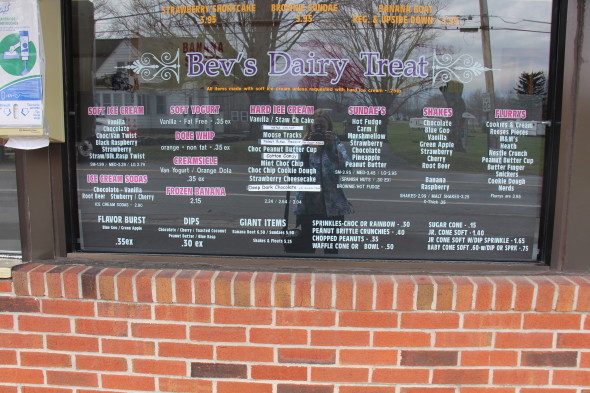 Those from around Oswego come to Bev's to enjoy flurries, shakes, sundaes, hard ice cream, soft serve and much more. With a reasonable range of flavors for each item, everyone should be able to find something they like. The flurry selection specifically offers the most variety—with cookies and cream, Reese's pieces, peanut butter cup, Nestle Crunch, cookie dough and more. Sure enough I ordered myself a peanut butter cup flurry, which tasted great despite the cooler temperatures. However, for me, the price of each item is a little high for what you get. Maybe I'm biased because of the outstanding prices I pay from my local Nick Charlap's back at home, but I feel like less than $1 for a mini ice cream cone with a tablespoon full of ice cream in it isn't a "deal."
The journalist in me got to thinking how others felt about this beloved establishment. So I turned around and talked to a few customers. One senior expressed love for Bev's flavors, but recounted a time where she was forced to watch the sunset from the long line she was standing in waiting to get her ice cream when she could have been sitting down watching it if the service had been a little faster. A junior passionately spoke of her love for dipped ice cream cones, but expressed the same concern regarding the long lines, especially on days with the nicest weather.
Their comments about the line had me thinking about the multiple occasions when I had driven by Bev's, and the line was so long that I had to literally cross the center line on the road to avoid the crowd that had formed in the street.
With a more contained crowd, additional workers and speedy service, Bev's could go from a seven to a nine for some. But I don't think the long lines will keep customers away in the slightest, as Bev's is a tradition for many Oswego State students, and even questionable prices will not stop us from getting ice cream on a hot, sunny day.